Product Overview
Harman Kardon HS 210/230 2.1 include a DVD player with built-in receiver / amplifier, a subwoofer and two speakers of 65 watts each. The 200 Watt subwoofer you can play MP3 and WMA files and receive radio signals in addition to CDs and DVDs. In terms of connections you can use a USB 2.0 input / output and via the ethernet connections you can connect to your home network to play music files via the home cinema set. In addition, the sets include an HDMI output for Full HD (upscaling to 1080p) playback.
Rich and Realistic Sonic Performance
Designed to serve as an expandable home theater loudspeaker package, the HS 210/230 is the foundation of a music and film fan's dream system. Harman Kardon® engineers have designed all of the system's components to work together, resulting in a rich and realistic sonic performance. Two voice-matched left and right speakers, with powerful flat-diaphragm, midrange drivers and smooth CMMD® Lite dome tweeters, are partnered with a lusty, down-firing subwoofer to ensure a fully balanced playback environment.

Carefully Engineered
You can place these video-shielded speakers near your TV without causing magnetic interference, while carefully engineered, 2-1/2-way crossovers help ensure smooth transitions between the satellite speakers' high-frequency tweeters and midrange drivers. The speakers look beautiful, too, thanks to glossy, streamlined black exteriors that fit any interior design. The system is compatible with HTFS 3/E floor stands (to place the speakers at ear level) and additional speakers (to expand the system to 5.1 or 7.1 channels). By elevating your home theater from the ordinary to the truly extraordinary, the HS 210/230 ensures that you'll have a best-in-class 2.1-channel cinema experience.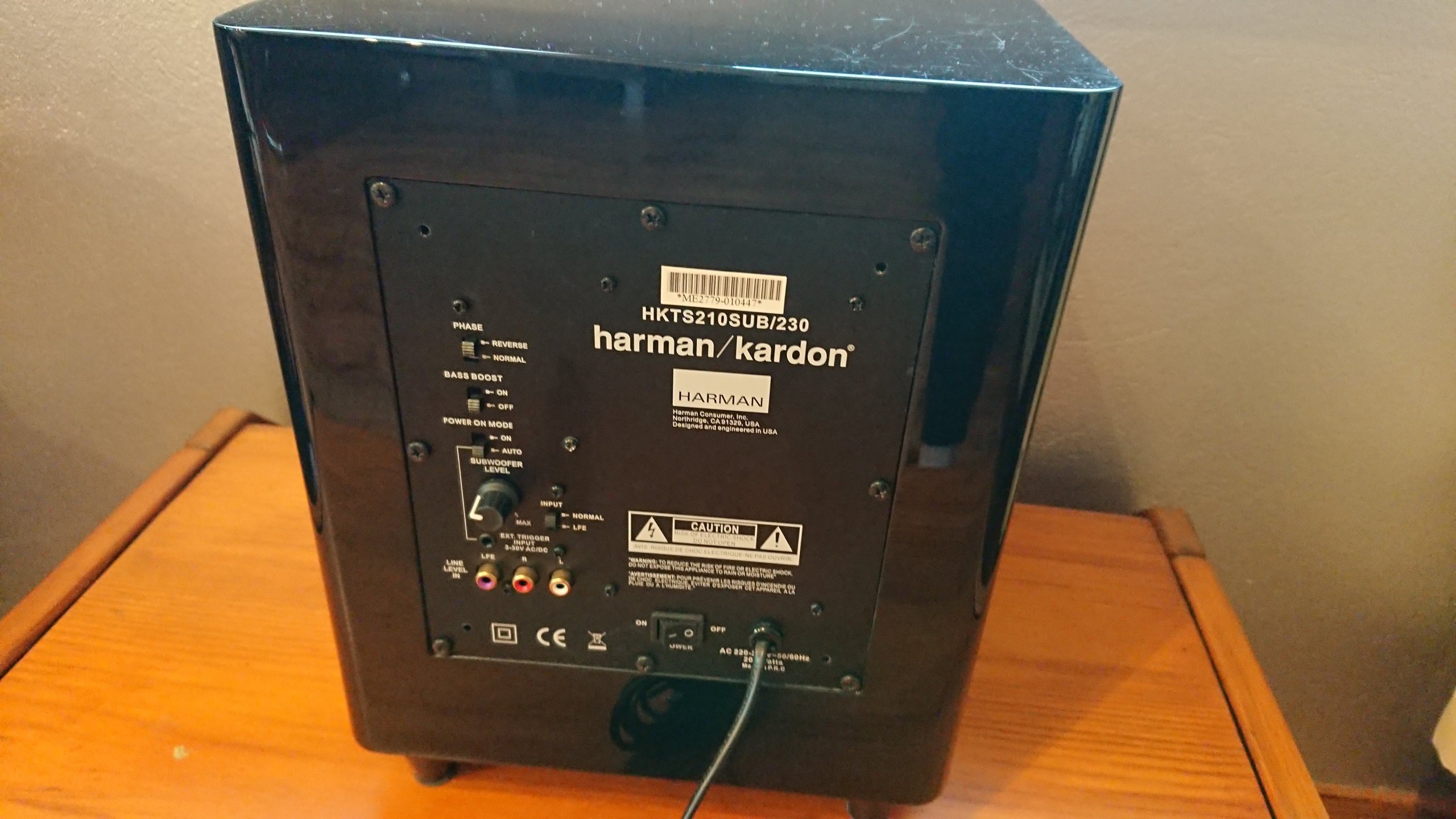 General Features
Nominal Impedance; 8 Ohms
Satellite Frequency Response; 35Hz - 20kHz (-6dB)
Sensitivity; 83 dB (2.83V@1m)
Antenna terminals; 75 Ohms, unbalanced
Subwoofer_Frequency Response; 45Hz – 200Hz (–6dB)
Order the Harman Kardon HS 210/230 Home Theater today and have it delivered to your doorstep within 1-3 working days or same day delivery within Nairobi. Same-Day delivery in Mombasa on selected items. Pay on delivery via cash/Mpesa.