Product Overview
Positioned to be your multi-purpose home entertainment speaker system, the Creative SBS E2400 is built for superb audio performance with multiple connectivity options in mind including a built-in FM radio, 3.5mm stereo input, RCA connectivity and USB memory flash drive support. You can conveniently connect it to the TV, DVD player or even your mobile phone. The E2400 is absolutely perfect for your movies, games and music!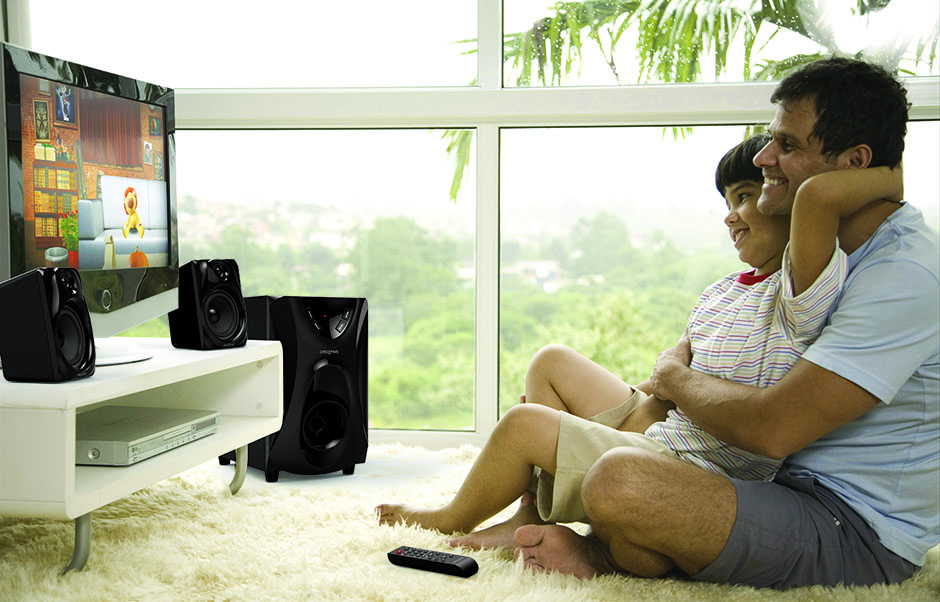 Enjoy Natural Sounding Audio
The newly-improved Creative IFP design features an extended flare surrounding the satellite driver to provide an even wider acoustic sweet spot. This improves sonic directivity to the listening area, giving music more focus while preserving tonal accuracy. Largest-in-class, down-firing subwoofer. This home theatre system can be used in many ways. It is the ideal choice for all movie fans, music lovers and gaming fanatics.
Convenient Connectivity
It connects to the TV, DVD Player and smartphones as well. If you want to play music from your USB flash drive, then all you need to do is to plug it to the system and it will start initiation through its in-built MP3 player. The 2.1 system produces brilliant sound quality at any volume or frequency. If you are in a particular mood for music, then adjust the music equalizer according to your requirements.
General Features
High performance speaker system1 that produces 25W of raw audio power
Wooden subwoofer cabinet for excellent bass reproduction
Built-in MP3 player that plays music from your USB thumb drives
Built-in FM radio frequency receiver with memory channels to save and enjoy your favourite stations
RCA connectivity to TV sets and DVD players
3.5mm line-in to connect portable media players, smartphones, laptops and tablets
Order the Creative SBS E2400 Speakers today and have it delivered to your doorstep within 1-3 working days or same day delivery within Nairobi or Mombasa. Payment on delivery.