Product overview
The Tecno WinPad 2 runs on latest Windows 10 OS powered by 64-bit Intel Quad-core processor and 2GB RAM. The 64-bit architecture gives enough power and speed to easily handle multiple tasks with lower power consumption which allows you to process emails, handling some Office job (Excel/PowerPoint/Word) and answering instant messages at the same time, everything works perfectly on this device and the operation works smoothly enough.
Design Features
The Tecno WinPad 2 is designed with a portable keyboard. It uses IPS technology for its HD display. IPS technology is commonly used in mobile devices; it helps to provide wide-view angles with vivid color and high brightness. WinPad 2 has a metallic and sleek body, which feels good in hand, lightweight and easy to be carried by single hand. You get 64 GB for your files, which is adequate for your Excel and Word files. You can choose to expand the memory to up to 128 GB through the Micro-SD slot.
Performance
The Intel Atom X5-Z8350 Quad-Core CPU powers the Tecno WinPad 2. However, the Winpad 2 performs moderate processes such as running Office Suite applications such as Word and web browsing flawlessly. The tablet is, therefore, a perfect productivity partner, especially if that is all you want from a PC. The CPU has a smart function that automatically hibernates programs that aren't in active use and thus you can squeeze some extra performance from the WinPad 2.
Camera

There are two cameras. One on the back and one for selfies/video calls etc. There's a 5MP Rear camera with auto focus and a 2MP front camera. Connectivity. WinPad 2 supports WiFi connectivity It is also equipped with 3 comprehensive USB 3.0 ports, a Mini HDMI and a Micro SD.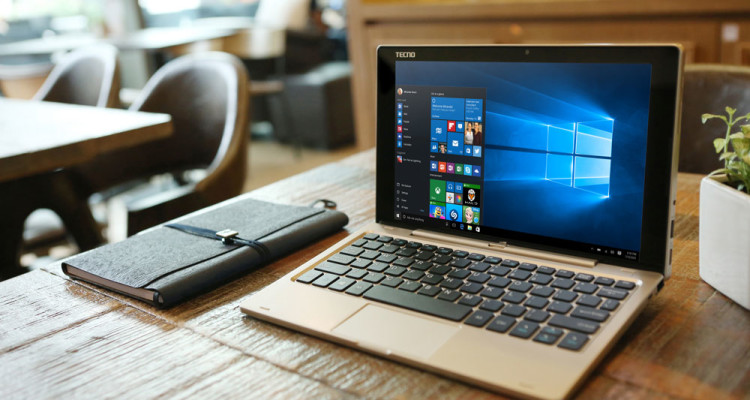 Modern Keyboard
The keyboard is one of the excellent features that makes the tablet stand out. You get a full keyboard layout which is identical to the one you will find on most laptops with the major difference being the absence of a dedicated numeric keypad. The tablet docks on the keyboard and thus you won't need Bluetooth to establish a connection. The tablet packs two USB 2.0 ports and a charging port (the other charging port is on the tablet). In addition to this, the keyboard has a fully functional track pad. The keyboard has a great design and doesn't look cheap. You can easily detach the keyboard from the WinPad2 using a dedicated button.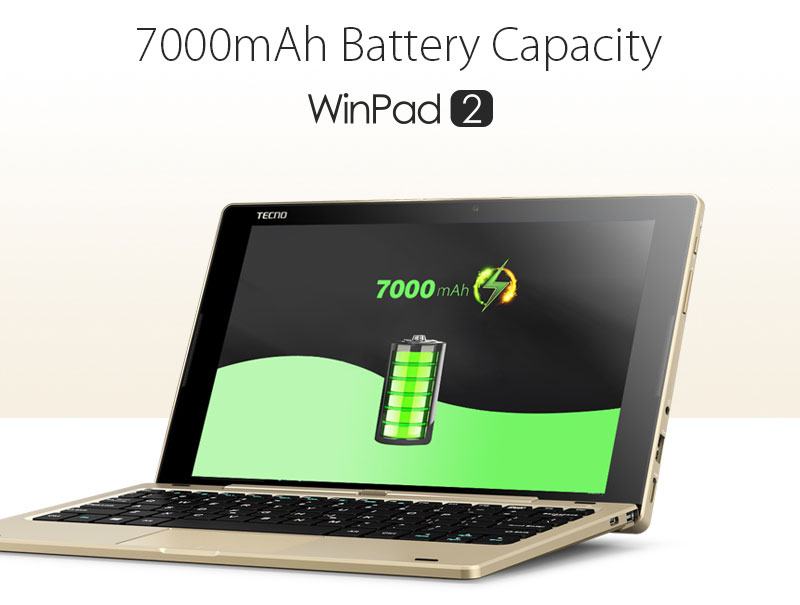 Battery

In battery aspect, the WinPad 2 is equipped with a 7000mAh battery capacity which is better than that of last years flagship, providing up to 10 hours on a single charge. 10 hours usage time looks much more higher than that of most laptops. The tablet through the use of the Intel Atom processor packs some smart energy management features where wastage is minimized. For instance the tablet through the use of the inbuilt gyroscope detects the orientation of the tablet and thus hibernates it when not in use.
General Specifications
Intel® Atom X5-Z8350 Quad Core 1.92GHz
2 GB RAM, 64 GB
128 GB Micro SD
Ports; 3 (1 USB 3.0 x 2 USB 2.0)
WiFi Connectivity
Order the Tecno Winpad 2 today and have it delivered to your doorstep within 1-3 working days or same day delivery within Nairobi. Same-Day delivery in Mombasa on selected items. Pay on delivery via cash/Mpesa.