Product Details
The JETTOM J1​ Kids Tablet is a wonderful device that can be used to engage your child's attention. This Android tablet features large, bright, and colorful icons that make it easy for a child to navigate the menu. A 7-inch touchscreen with a ten-point touch makes it easy to operate for a child. This tablet comes outfitted with a Quad-Core processor supported by 4GB internal storage and 512MB of RAM. This tablet comes equipped with WiFi. Let your child develop an early understanding of computer devices through the use of this tablet.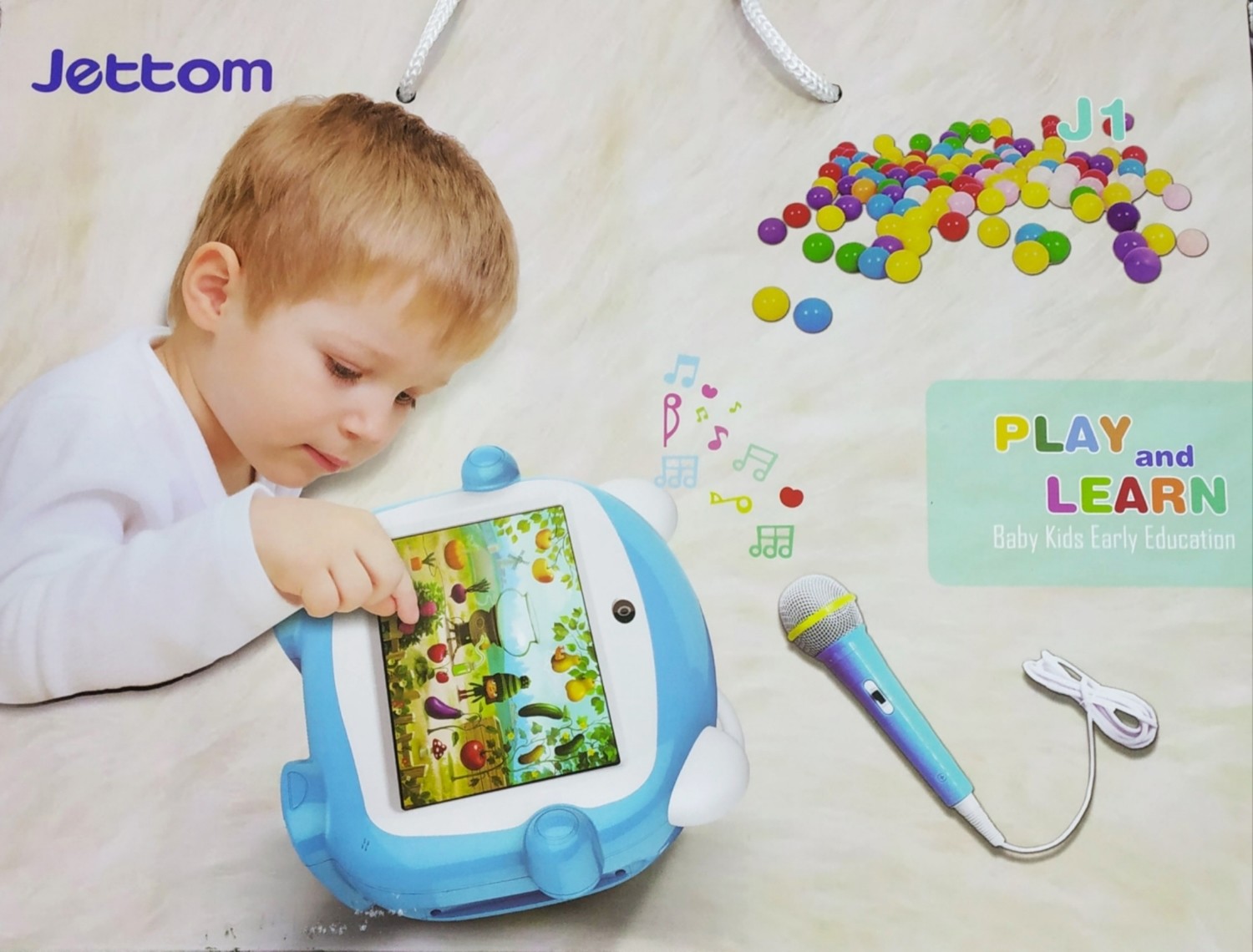 Design and Display
This tablet by Jettom features a 7-inch capacitive touchscreen display. This touchscreen is capable of responding to up to ten touch inputs at the same time. This tablet has a wide bezel, which makes it very usable and easily portable for a toddler.
Multimedia
This Android tablet can easily play most standard media files as it supports a wide range of audio and video formats. This tablet features a 5MP rear and 2MP front camera, which enables you to capture pictures as well as engage in video calling. In addition, this JETTOM J1​ Kids Tablet includes support for English, French, and Arabic among other languages.
Great Battery, Storage, and Connectivity
The JETTOM J1​ Kids Tablet features a WiFi adaptor that facilitates easy connection to the Internet. A 3.5mm audio jack is also present at the bottom, enabling easy connectivity of audio peripherals. This tablet features a 2000mAh battery that facilitates long-time usage by a child. A 4GB memory module comes outfitted in this tablet, enabling easy storage of different files. The storage capacity of this tablet can be extended by up to 32GB with the use of an appropriate memory card.
General Specifications
Front Camera: 2MP Rear Camera 5MP
Number of Processor Core: 1.3GHz Quad-Core
RAM Size: 512 MB
Bluetooth: Yes
Display Type: IPS LCD
Battery Capacity in mAh: 2000 mAH
Order the JETTOM J1 today and have it delivered to your doorstep within 1-3 working days or same day delivery within Nairobi. Same-Day delivery in Mombasa on selected items. Pay on delivery via Cash or Mpesa.