Product overview
Enjoy the rich bass from its Unifying body without compromising on space, Two compact satellite speaker embedded in the both sides of MP505 to deliver balanced, accurate and deep sound while a wireless control.
USB Flash Drive and SD Card Direct Slot
The back panel of MP505 are having 2 slot for using USB Flash drive and SD card directly, which means users can just plug USB Flash drive and SD card into the back corresponding interface for direct music playback.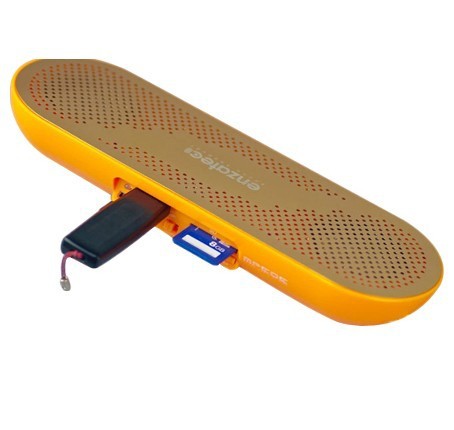 Portable – Retractable and Build-in Lithium Battery
For portability, the 3.5mm connector and 800mm cable are made retractable, which saves the space of storing, and highly enhanced the flexibility of MP505. While the outdoor using, the Build-in Lithium battery can significantly prolong the playback time, and provides plentiful energy for the impetus of speaker unit.All-in-One Design MP 505 combined multi-function playback, high quality of sound & Iconic Design into one-piece.USB Powered and Charging Battery can be charge by any USB power source, charging and playing at the same time.
GPX-4 Semi-Alu Driver, Pdb-Z Bass Radiator
Desktop has no much room for speaker. The size of MP505 is not only perfect for your desktop, but also the sound is great for you music playback. The little size made harmony interactions between GPX-4 Semi-Alu Drivers and Pdb-Z Bass Radiators, which produces outstanding Treble and Bass.
General specifications
Sensitivity: 89 dB /- 3
Frequency Response: 60-20K Hz
Rated Power: 2.5 w
Maximum Input Power: 5 w
Cable Connection: 1 x USB Power Cable, 1 x Stereo Line
Order the Enzatec MP505 Rechargeable Speakers and have it delivered to your doorstep within 1-3 working days or same-day delivery within Nairobi. Pay on delivery.