Product Overview
A 64-bit architecture chip, fingerprint identity technology, the finest optic engineering, and fully loaded OS come together to make the iPhone 5S. The colors of the iPhone 5S have been chosen based on how they stand in a worldly view- how much of the color is seen around us, how appealing is it to the human eye. Rest assured that all of these colors are known to have value and elicit a particular emotion. We made certain associations with the colors, and this has been scientifically proven. All the colors of the iPhone 5S will draw out certain sentiments in you.
A New Level of Efficiency and Power
The new M7 coprocessor works in tandem with the A7 chip to make magic. It has been designed to specifically measure motion data from the accelerometer, gyroscope, and compass. Fitness apps which track physical activity can easily access that data from the M7 coprocessor without constantly engaging the A7 chip, freeing it up considerably. It even requires less battery power.The M7 knows exactly when you're running, walking, or even driving! For example, Maps switches from driving to walking turn-by-turn navigation if, you park and continue on foot.
Tamper proof Security
A user checks and uses his phone countless number of times. Entering a passcode each time can be quite a pain. There is also the matter of security. While a passcode can be stolen, a fingerprint cannot. With iPhone 5S, accessing your phone is easier, quicker, and much more personal; not to mention futuristic. With Touch ID, a new fingerprint identity sensor, you have to simply place your finger on the home screen to unlock the phone. It's as simple as that. This is a highly convenient and secure way to access your data and sensitive information. Your fingerprint can also be used to approve purchases from the App store, iTunes Store, and the iBooks Store as well, saving you the trouble of entering your password every time.
Uniquely Designed
There are fast phones and then there is the iPhone 5s. The phone's new A7 chip delivers incredible CPU and graphics performance, up to 2x faster than the A6 chip. The iPhone 5s the world's first 64-bit smartphone. The phone offers desktop-class architecture in a superslim phone. Since iOS 7 was built specifically for 64-bit delivery, it has been uniquely designed to make optimum use of the A7 chip.The A7 chip supports the OpenGL ES version 3.0, delivering vivid graphics and even complex visual effects that were once possible only on desktops. Let's consider games for example, all the textures, hues and shadows come to life on the phone, and that too with extreme realism. Even the pretty sunlight reflecting off the water! The phone's apps and the OS itself has been optimized for the A7 chip. The Camera app for example. It makes use of the new image signal processor built into A7 to offer up to 2x faster autofocus, higher video frame rates, and faster photo capture. With all the juice, one would think that it would compromise on battery life. Nope. The A7 has been designed to be incredibly energy-efficient.
The iSight Camera
iPhone 5S comes packed with advanced technologies that have been custom designed for the iSight camera. That allows you to take great pictures anywhere, any time. Rather than letting users try-and-test their photography skills, the camera is simple designed to take great pictures! Here are just some of the iSight camera's features. You can choose from various filters and apply them to your still photos. Pick a filter that you like and see its effect before you take the shot. You can even add it later. The new iSight features a 15 percent larger sensor, delivering bigger pixels, measuring 1.5 microns. It also has an aperture of ƒ/2.2, letting in more light.
Facetime HD Camera
When it is not possible for you to be somewhere in person, you can be there in spirit. Or better still, on screen. The iPhone 5S features the FaceTime HD camera that lets you engage in video calls. Share some good news with your family, or wish a friend happy birthday with a FaceTime video call. The camera features larger pixels and a backside illumination sensor to light up pictures even in poor light.
Incredible Performer
iOS 7 was designed keeping the iPhone 5s in mind. The OS makes complete use of the iPhone's juice, offering great performances. The phone's advanced technologies such as the 64-bit A7 chip, the Touch ID fingerprint identity sensor, and the new iSight camera are used and applied optimally by the OS. iOS 7 also introduces a lot many features such as smarter multitasking, AirDrop, and Control Center. The overall experience on the iPhone is extremely intuitive and designed to deliver. All in all, the OS has been designed to please.
iCloud Storage
iCloud is one of the finest cloud server applications that mobile technology has witnessed. It gives you access to all of your content, whether you are using the iPhone, iPod, iPad, or Mac. With iCloud, you can send pictures and videos to your friends' Apple devices. They also have the option of commenting and posting their own content on your shared streams. The Activation Lock feature boots the security of the iPhone 5S.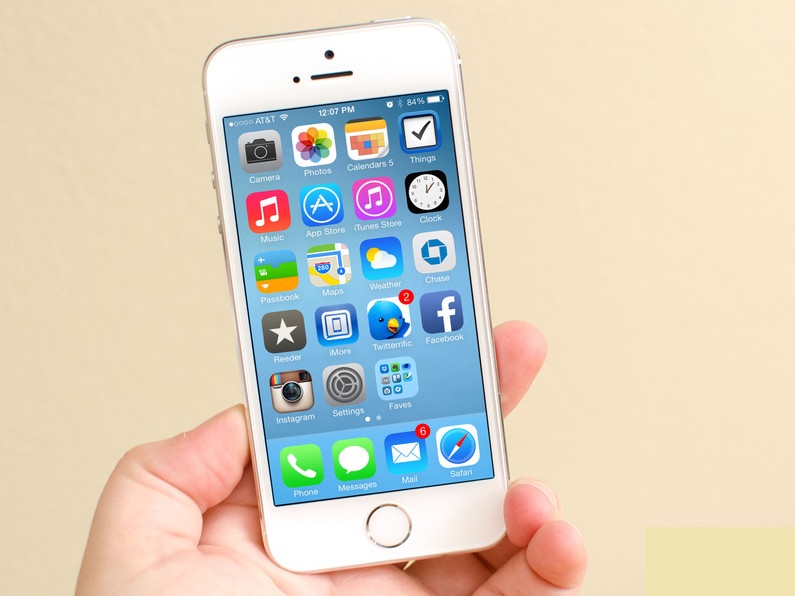 General Specifications
Dual-core 1.3 GHz
32 GB, 1 GB RAM
Main Camera 8 MP, Front Camera 1.2 MP
4.0 inches
iOS 7
Order the iPhone 5s today and have it delivered to you in 1-3 days or same day delivery within Nairobi. Payment on delivery.