Product Overview
The ICD-PX470 from Sony is a digital voice recorder with a built-in USB connection. It records in both linear PCM and MP3 formats and is suitable for capturing lectures, meetings, notes, and even live music. It requires no cable to communicate with your computer; simply plug the unit into an available USB port on your computer to move files back and forth.
Distinct Features
The unit provides 4GB of built-in memory, but this is expandable via the microSD card slot. A calendar-search function renders finding your files a straightforward task. The audio quality of recording is served by a low-cut filter for eliminating extraneous noise and rumble, as well as Auto Voice Recording mode, an S-microphone system, and adjustable options for capturing stereo or mono sources at close range and at a distance. The included AAA battery enables the unit to last for up to 55 continuous hours. Sound Organizer software for Windows is also included.
Record and Listen in Linear PCM or MP3 formats
Choose from two popular file formats when you record. Linear PCM files are larger but capture more detail – ideal for recording music. MP3 files are compressed but require less memory, making them better for recording long lectures or meetings. The ICD-PX470 will also play back MP3 and PCM files, so you can listen to your favourite songs in music player mode.
Adjustable Microphone Range
Adjustable microphone settings hone in on the sound you want to capture. When you're recording a single voice, Focus mode captures a narrow field of sound from one direction. When you're in meetings, the Wide-Stereo mode opens up the range to capture everyone in the room. Choose from four 'scene' pre-sets (music, meeting, interview, dictation) to further optimise the audio settings.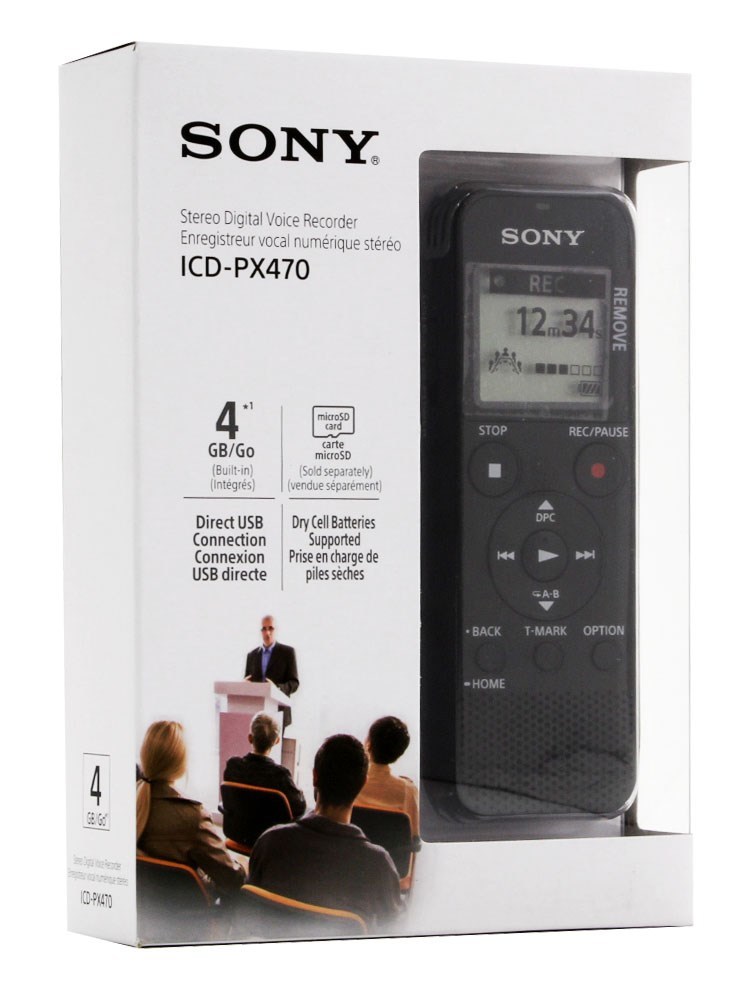 General Specifications
Record in Linear PCM (WAV) & MP3 Formats
Internal 4GB Memory & microSD Expansion
Onboard Stereo S-Microphone System
Up to 1,073 Hours of Recording Time
Wide, Focus, & Auto Voice-Recording Modes
Built-In USB Connector
3.5mm Stereo Mic-In & Headphone Jack
Included AAA Battery & Software
Order the Sony ICD-PX470 4GB Digital Voice Recorder today and have it delivered to your doorstep within 1-3 working days or same day delivery within Nairobi. Payment on delivery.