Product Overview
Samsung announced a new compact external DVD writer, the SE-S084F built for laptop, netbook and mini PC users. The USB-powered drive features the WriteMaster technology, which enables multitasking on the PC and high-speed writing, even in lower performance PCs; and the Buffer Under Run technology to prevent errors that result from writing speeds that exceed data transfer speeds for uninterrupted PC use. The Samsung SE-S084F burns DVD /-R at 8x, DVD /-R DL at 6x, DVD RW at 8X, DVD-RW at 6x, DVD-RAM at 5x, and CD-R/RW at 24x.
Sleek Design
The SAMSUNG 8X Tray load External Slim DVD Writer is designed to provide the highest quality DVD functionality in a sleek design that is not much larger than the CD/DVD itself. Simply plug it into your USB port and you are ready to watch movies, install software, copy photos, play music or do anything that you desire. Furthermore, this model supports both 12 cm and 8 cm discs. And the Manual Disc Eject function can let the disc ejected even when the power is off.
Buffer Under Run Technology
The SAMSUNG 8X External Tray Load DVD Writer's Buffer Under Run Technology prevents buffer under run which occurs in high-speed writing when the speed is faster than the data transfer. Because of this technology, multi-tasking is possible while data is being written on the drive, thus improving the user's productivity. Buffer Under Run Technology also enables high speed writing in low performance PCs.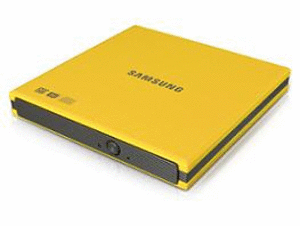 Paired for power and portability
The Slim External DVD Writer makes a perfect match for your laptop. Because modern laptops are designed for ultra-mobility, they aren't typically equipped with Optical Disc Drives, which can potentially make booting from a CD or playing a DVD movie a problem. But with the lightweight, portable Optical Disc Drive in tow, you have the perfect on-the-go, stand-alone.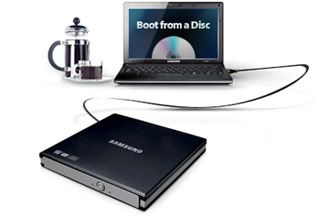 USB-powered for powerful on-the-go capability
Whether you're in a café, on a plane or sitting at a park bench, you can power up a Samsung's Slim External DVD Writer. Engineered to free you from power cords and AC adapters, you no longer need to be in your office to write DVDs. Thanks to its USB BUS power source you can write at maximum speed with no outlet in sight. So, don't let your hectic schedule slow you down, Our Slim External DVD Writer was built to help you keep up.

Couple it colourfully with your PC
Samsung's Slim External DVD Writer is as colourful as it is powerful. It comes in five cool and vivid colours so you can reflect your own unique sense of style as well as make a perfect match (or mix and match if you prefer) with your PC. Whether you're a traditionalist and take your technology in the usual white, black or have an eye for the bold and beautiful with blue, pink or yellow, the choice is all yours.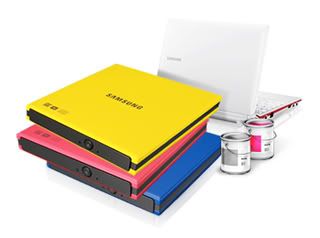 Travel lighter
Samsung didn't engineer the Samsung Slim External DVD Writer just to defy expectations, we made it this compact and lightweight because we know that today's hectic mobile lifestyles demand ultra-portability. A breeze to carry with you while traveling, this sleek, sophisticated DVD writer is always ready for on-the-go assignments.

General Specifications
Drive Type DVD writer
Enclosure Type External
Drive Height Slim (12.7 mm)
Loading type Tray
InterfaceUSB 2.0
Drive Mounting Horizontal
Buffer Memory 1.5MB
Order the Samsung USB 2.0 External Optical Drive and have it delivered to your doorstep within 1-3 working days or same-day delivery within Nairobi. Pay on delivery.