Product Overview
The imation link™ Power drive lets you move and store data to free up storage space on your iphone or ipod touch. The drive also lets you restore battery life so you'll stay connected longer, able to back up photos, videos, and files wherever you go. This drive must be used with the link app.

Design Features
The first of the Power Drive's twin conveniences comes courtesy of a 3000 mAh battery inside a petite block weighing a mere 3.9 ounces. Measuring 2.9 by 2.5 by 0.87 inches, the diminutive Power Drive isn't going to be a comfortable fit in many pockets, but it's unobtrusive enough to be carried just about anywhere else. Wrapped around the right edge is a short (5.3 inches) Lightning cable, used to connect an iOS device for charging, as well as access to documents and media stored on its internal storage. Tucked along the opposite edge is a two-inch USB 2.0 cable for topping off the internal battery or transferring files to and from Mac or PC.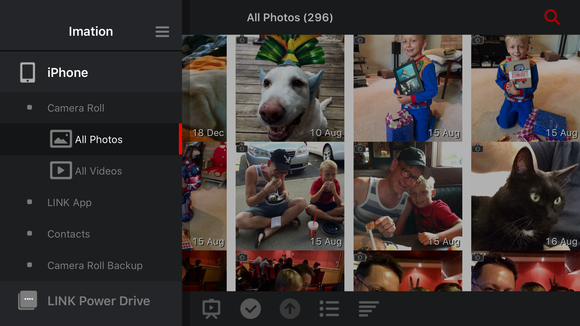 Room to breathe
The second half of Power Drive's double bill is providing flash storage accessible via the free Imation Link app. Available in 16GB, model, actual media playback worked great without a single hiccup, even on 1080p HD content. Never max out memory again. Free up space on your iphone or ipod touch anytime you want. Charge your iphone or ipod touch device wherever you are, wherever you need it. Save and share files, back up photos, videos and other important data.
Powered to go
The onboard storage is formatted FAT32, so it mounts as a volume on any Mac or PC running OS X 10.7 or Windows XP and later. The Link app features a better UI than similar file management apps I've used, capable of accessing or backing up the Camera Roll, import/export of iOS device contacts, and copying files to Power Drive. Imation Link can also share stored content to social networks or cloud services Dropbox, Google Drive, or OneDrive, but only to its own folder. The app works with most popular media file types like MP4, MOV, MP3, and M4A, but AVI and MKV lovers need not apply. PDF, text, and even Word documents can be previewed or copied to compatible apps via the iOS share extension. Aside from high transfer speeds and an intuitive button arrangement, Power Drive is well thought out and executed, and will be welcome relief for those stuck with 16GB iPhones.

PRODUCT FEATURES:
16 GB, 112g
Li-ion polymer battery 3,000mAh (charging available capacity: 2700mAh)
USB2.0 compliant / Lightning connector compliant
Lightning connector standard equipped models (iOS 7 or later)
Made for iPhone 6 Plus, iPhone 6, iPhone 5s, iPhone 5c, iPhone 5, iPod touch (5th generation)
Order the iMation 16GB Link Power Drive today and have it delivered to your doorstep within 1-3 working days or same day delivery within Nairobi. Payment on delivery.