Product Overview
Advance 4GB microSDXC card enhances the performance of your mobile devices..The Advance Card makes the most of your Android powered smartphones and tablets. With a storage capacity of 4GB, this microSDXC card lets you capture and store more photos and videos without running out of space. Furthermore, this Advance microSDXC card is designed to withstand harsh conditions like Xrays and extreme temperatures. Also, the Advance Mobile 4GB microSDXC Card comes with an SD adapter that allows for easy transfer of files from PCs and laptops.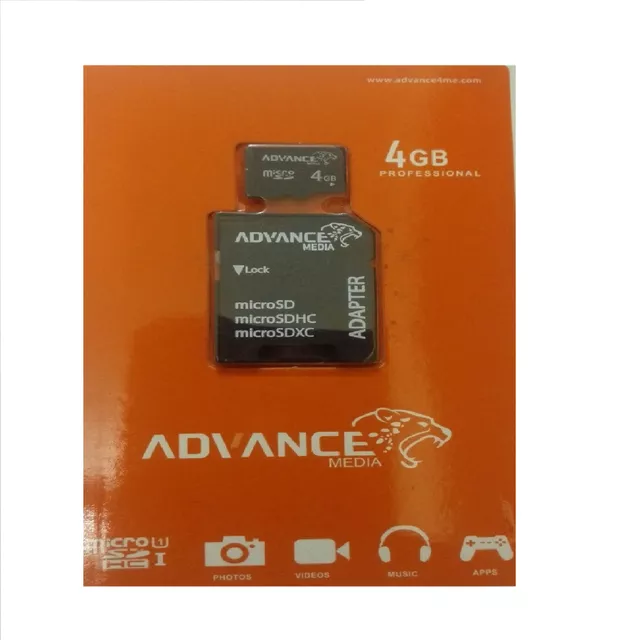 Remarkable Perfomance
This Advance 4GB is a perfect companion to your mobile device. It reads and writes data at incredible speeds. The blazing fast performance of this memory card is ideal for fast paced photography and flawless video capture.
High Durability
This Advance 4GB microSDXC is as durable as it is efficient. It has a waterproof construction that allows you to work in rainy weather conditions. Also, this Advance memory card protects your data from Xray machines at the airports and other places
Back Up Your Favourite Media
This 4GB microSDXC card comes preinstalled with a Memory Zone app that provides an easy way to manage your photos, videos, and files. It lets your view, access, and backup all your files from your device's memory in one convenient location. Also, you can set the app to move files from your device's internal storage in one convenient location.
Bigger Capacities to capture, carry and keep it all
Key Features
Fast transfer speeds
Waterproof, X-ray proof, temperature proof, and shockproof.
SD adapter included for compatibility with digital cameras and laptops
Low power consumption
Order the Advance 4GB Micro SD'Äč today and have it delivered to your doorstep within 1-3 working days or same day delivery within Nairobi. Same-Day delivery in Mombasa on selected items. Pay on delivery via cash/Mpesa.