Product overview
Apple sets a new benchmark in display and computing with its Apple MacBook Pro. The Apple MacBook Pro employs a 13 inch Display, which gives the best display performance in its class and among previous generations. This display is 4 times sharper and has more pixel to pixel accuracy which provides stunning picture quality. With its 2.5 GHz Dual Core Intel i5 you can handle high computing tasks and produce quick results. The Apple MacBook Pro provides great computing power to run apps, games and many more processes. The 4GB RAM improves system performance and provides seamless multitasking between applications. The Apple MacBook Pro features a 500GB HDD. Additional storage space can be added via the Thunderbolt and USB ports.
Superior Design
The Apple MacBook Pro beautifully embeds cutting edge technology in a slim design. It employs the revolutionary Display that includes 4 times the pixels in the same space as the older version. This display gives a superior quality resolution and lets you view sharper and clearer pictures. The all flash architecture with latest processors gives best in class computing experiences. You can use and carry the Apple Mac Pro with ultimate ease because of its amazingly sleek dimensions.
Dual display and video mirroring: Simultaneously supports full native resolution on the built-in display and up to 2560 by 1600 pixels on an external display, both at millions of colors.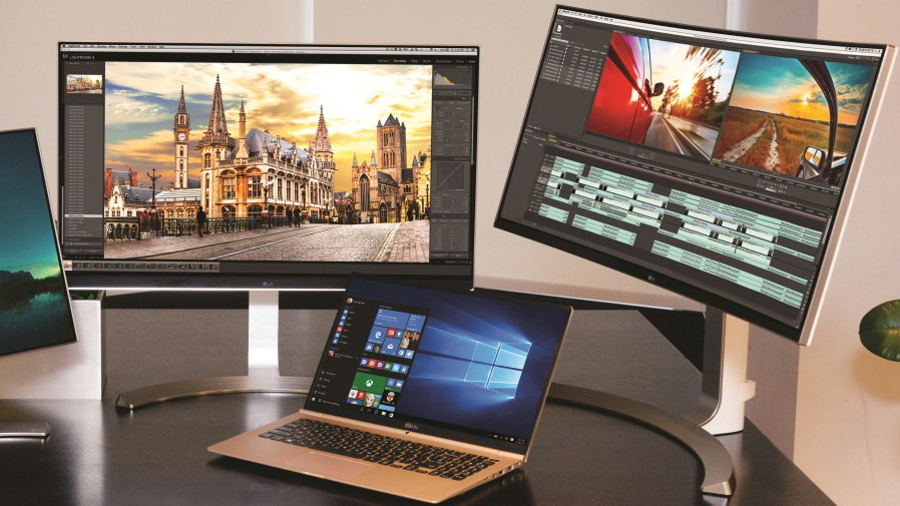 Remarkable Power
The 13 inch Apple MacBook Pro employs the powerful fourth generation Dual Core Intel core i5 processors. It has a 2.4 GHz frequency, 6MB shared L3 cache memory and Turbo boost that speeds up to 3.8GHz. This configuration allows you to accomplish complex tasks in a short span of time, which can be helpful in apps like Final Cut Pro.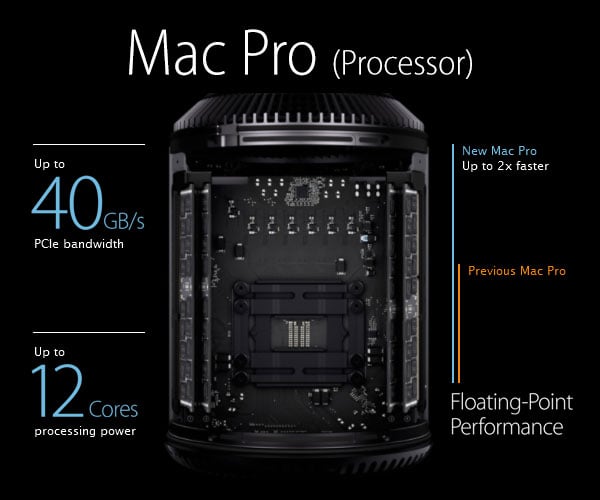 Spectacular Graphics
The 13 inch Apple MacBook Pro provides an outstanding display with impressive color and shade delivery. The fourth generation Intel Core i5 processor uses Iris Pro Graphics that has 128 MB of embedded memory. It amazingly accelerates the processor and graphic tasks by acting as an ultrafast cache memory. The performance is further increased by combining the power of Iris Pro Graphics with the new NVIDIA GeForce GT 750M GPU. It has 2GB of GDDR5 memory, which is twice the video memory of previous generation NVIDIA graphics processors. This improves the frames per second value in 3D games and ensures greater speed and responsiveness for your HD video projects.
Impressive Battery performance
The 13 inch Apple MacBook Pro comes with impressive 8 hours of battery life. This battery life is commendable since it supports ultra - high resolution display, state of the art processors and graphics, and a super slim design. The battery provides up to 1000 full charge and discharge cycles and up to 30 days of instant on standby time.
Super Fast all Flash Storage
The 13 inch Apple MacBook Pro employs the new PCle based flash storage, which is 60 percent faster than the previous generation MacBook Pro. With this feature you can import huge photo libraries into Aperture in no time. The flash storage beautifully combines with dual core processors and high performance graphics so you can get quick results even in the most demanding editing tasks in Final Cut Pro. The Mac Book Pro comes with 1TB of flash memory to store your important files. Since the Flash has no moving parts, it is highly durable and quiet as well. The Mac Book Pro can stay in standby mode up to 30 days on a single charge, which makes it extremely energy efficient.
Supersonic WiFi
The Apple MacBook Pro is equipped with the latest 802.11ac WiFi and Bluetooth v4.0. You can unplug and still be connected to your network and wireless peripherals. Its AirPlay and Apple TV support allows you to view pictures, play videos or enjoy music from your MacBook Pro to your widescreen TV. You can even improve your wireless performance up to 3x faster by connecting it to a 802.11 ac WiFi base station, AirPort Extreme or AirPort Time Capsule.
Thunderbolt I/O
The Apple MacBook Pro has support for the latest and Thunderbolt 2 I/O port. This enables the MacBook Pro to deliver twice the throughput and provide up to 20GB/s of bandwidth to each external device connected to it. Since Thunderbolt 2 has support for daisy chain up system, you can plug up to 12 external devices to each Thunderbolt port. The Mac Book Pro comes with multiple options of storage and connectivity with its 2 ThunderBolt port, an HDMI Port, 2USB v3.0 ports and an SDXC card slot.
Superb Audio Quality
The Apple MacBook Pro has dual built in microphones, which provides superb audio quality. The mics are intelligently designed to adapt depending on the situation. For example, when using the FaceTime app the mic reduces the background noise from behind the book. While using Dictation, an adaptive audio beam is generated by the mic that intelligently adjusts to detect your voice and avoid reception of background noise.
Self-adjusting Keyboard Light
The Apple MacBook Pro employs a multi touch track - pad that has a large all - glass bottom surface. This feature allows you to interact effectively with support gestures like tap, touch, pinch, swipe and click. The MacBook Pro has a built in sensor that detects the change in ambient light and adjust the keyboard light accordingly.
Powerful Icloud Experience
With iCloud support the Apple MacBook Pro lets you access your music, pictures, documents and many more items from any other Apple device. It automatically keeps your data up to date with the latest versions. For example, when you buy a song, you can access it on multiple devices with its iCloud. With the new features of OS Mavericks you get a more powerful iCloud experience. The iCloud Photo Sharing iPhoto app allows you to share pictures and videos with friends and family. The iCloud Keychain keeps all your website usernames, passwords or credit card information completely secured using 256bitAES encryption.
Digital lifestyle applications
The Apple MacBook Pro enables the user with document creation, presentation sharing, number crunching (process large amounts of information or perform operations of great complexity, especially by computer), photo editing, movie making and many more solutions. This is possible because of productivity and creativity of the iLife Suite; Apple's award-winning suite of digital lifestyle applications, including: iPhoto, iMovie, and GarageBand.
General Specifications:
2.5 GHz Dual-Core Intel Core i5 processor
4 GB DDR3 RAM; 500 GB Hard Drive
13.3 inch LED-backlit display, 1280-by-800 resolution
Iris Pro Graphics & NVIDIA GeForce GT 750M
Order the Apple MacBook and have it delivered to your doorstep within 1-3 working days or same-day within Nairobi. Payment on delivery.