Product Overview
The LG 32 Inch LED TV HD is the perfect entertainment machine that gives you unparalleled quality in your content. It not only gives you HD material that looks spectacular it also adds a truckload of features to keep you hooked for those blissful moments that you spend relaxing. The LG 32 Inch LED TV has a wide 32inch display that produces resolutions of up to 1366 x 768 pixels that show you all those details in content. The TV also employs a number of innovative technologies so that you can revel in the magnificent output.
Design Features
You have the Virtual Surround technology that makes sure that your audio matches up to the high quality video on display. This makes for a highly encompassing and immersive experience. The LG 32 Inch LED TV is integrated with a 2.0 Channel speaker system that gives you a total output of 10W each. You even have Clear Voice II that makes sure you get all the dialogues just like they were delivered. This ensures you don't miss a single word. The Triple XD Engine present gives all your content that lifelike makeover for a more encapsulating experience. It difficult to watch your favorite movies and series without your jaw dropping to the ground.

Splendid Display
This LG TV employs the LED technology that features a 32inch display. This LG 32 Inch LED TV Can produce maximum resolutions of 1366 x 768 pixels. This LG 32 Inch LED TV Features the Direct BLU type
The Triple XD Engine ​
The TV features Triple XD Engine features an Active Noise Reduction that features Dynamic Clear White and Real Cinema 24p.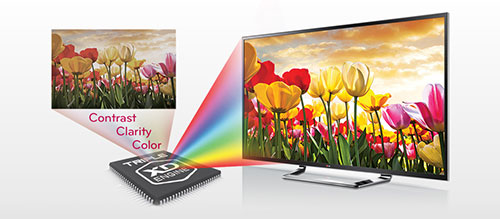 Astounding Video Quality
This LG TV features a 2.0 Channel Speaker System that produces a total output of 10W with Virtual Surround Sound System. IT features Clear Voice II and an Optical Sound Sync that excludes the 32inch HD.
Intresting Interface
The LG TV comes with a DivX HD SD/HD/Plus HD.The ports are 2 HDMI ports and 1 USB v2.0 port.
General Specifications
Plays External Hard DriveYes
Divx (SD/HD/Plus HD)DivX HD
Subtitle for DivX (Language)10 Language
Special (OLED, LED, LCD)
Jack spec (Input & Output) - TV Rear
Component In (Y,Pb,Pr )1 (Composite)
Digital Audio Out (Optical)1(H, 32H))
Order this LG TV 32'' LF550D​ and have it delivered to your doorstep within 1-3 working days or same-day within Nairobi. Payment on delivery.