Product Overview
Lenovo Yoga Core i3 laptop delivers a stellar performance. The Lenovo Yoga 520 2-In-1 Laptop is a performance powerhouse with stylish looks, immersive audio, gorgeous video, and optimized features. Thanks to its compact and lightweight design, the Lenovo Yoga 520 can easily go wherever you go. Furthermore, it has a durable 360-degree hinge that lets you adjust the screen in various modes. With the 14 inch display, you can browse the web and watch movies in vivid detail from almost any angle. Moreover, the narrow bezels on the two sides of the screen maximize your viewing experience.
This Lenovo 14 inch laptop is driven by an Intel Core i3-7130U Dual-Core processor that makes easy work of both light office tasks as well as demanding apps. The 4 GB RAM module allows you to work on large programs, apps, and files without a hint of lag. Furthermore, the inbuilt storage of 1TB(1000GB) gives you the confidence to store all your favorite entertainment content in one place. This Lenovo Yoga laptop is preinstalled with Windows 10 operating system that offers cutting-edge features and security capabilities to make your digital life fun and simple. Available in a gold finish, the Yoga 520 has a clean and modern look.
Sunning Design
Durable 360-degree hinge allows you to flip the screen from laptop mode to tent mode or tablet mode for a perfect viewing angle. Thin and lightweight construction gives you the freedom to the slip the laptop into your backpack. Updated touchpad for comfortable and smooth control. The 14 inch screen, with its FHD resolution, gives you a crisp, clear viewing experience. IPS technology allows you the view the screen clearly, even from extreme angles. Harman Speakers and Dolby Audio Premium deliver a rich, powerful sound.
Stellar Performance
Powered by 7th Generation, Intel Core i3-7130U Dual-Core processor, The Lenovo Yoga offers outstanding efficiency to handle all daily computing tasks flawlessly. The 4GB RAM module allows you to transition between multiple web tabs without slowing down the system. Windows 10 provides a familiar interface for a user-friendly laptop experience. Cortana works seamlessly with more than thousand apps to answer your questions.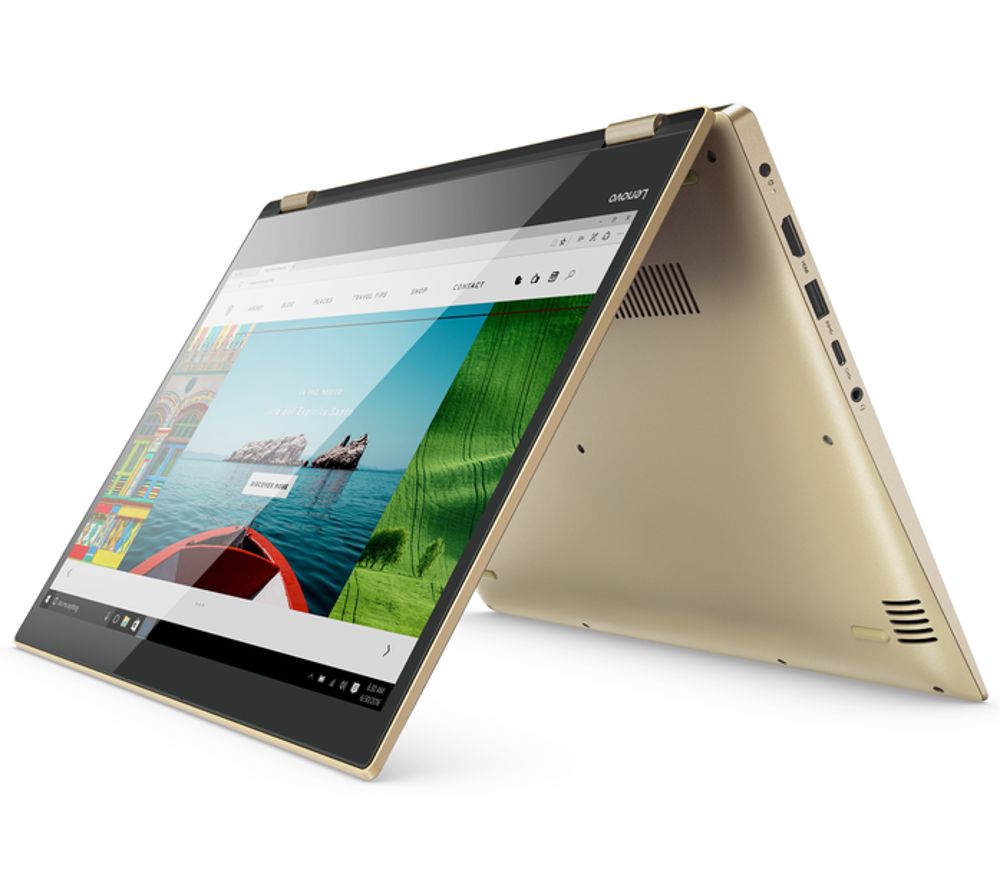 Full Day Battery charge,
10.4 hours of battery life means you'll never feel anchored to an outlet. Powerful battery provides up to 10.4 hours of charge to keep you connected all through the business day. Plus, the Yoga 520 comes with an always-on USB 3.0 port, which means you'll be able to charge your other favorite devices even when your laptop is powered off. Always-On USB 3.0 port lets you charge your mobile devices even when your laptop is powered off
Intel Core i3-7130U Inside
The Intel Core i3-7100U is a dual-core processor of the Kaby-Lake architecture. It offers two CPU cores clocked at 2.7 GHz (without Turbo Boost) and integrates HyperThreading to work with up to 4 threads at once. The architectural differences are rather small compared to the Skylake generation, therefore the performance per MHz should be very similar. The SoC includes a dual channel DDR4 memory controller and Intel HD Graphics 620 GPU (clocked at 300 - 1000 MHz). It is manufactured in an improved 14nm FinFET process at Intel. The power consumption is rated at a TDP of 15 Watt and can be configured down to 7.5 Watt for thin and light designs.
General Specifications
Intel Core i3-7130U
14in IPS Full HD LED touchscreen,
1TB 5400 RPM HDD, 4GB DDR4 2133 MHz
Intel HD Graphics 620
microSD Media Card Reader
802.11ac Wi-Fi | Bluetooth 4.1
USB 3.0 | Thunderbolt 3 | HDMI
Order the Lenovo Yoga 520 laptop and have it delivered to your doorstep within 1-3 working days or same-day delivery within Nairobi. Pay on delivery.