Product Overview
If you are on the lookout for an advanced notebook that will make computing on the go more enjoyable than ever, your search is likely to end here with Lenovo Ideapad notebook. Along with a sleek and stylish look, the notebook also has a host of useful and updated features that make using it a delight for any avid computer user. It comes with a 1-year warranty from the manufacturer and is now available on Saruk at a reasonable price.
Incredible Power
This Lenovo notebook performs without any glitches as it is powered by the Intel Core i3-5005U(P) processor with integrated Intel graphics. It also has a 4 GB DDR3L RAM for the same. With a stunning 39.62 cm (15.6) HD TN GL Flat display, the Lenovo Ideapad notebook delivers pictures with higher resolutions. Hence, you can enjoy watching your favourite videos or movies.
Up-gradable to Higher Platforms
Featuring the DOS operating system, Lenovo Ideapad makes it much easy to upgrade it to any other upgraded platforms. You can do so depending on the one that you find to be more convenient. Receive up to 1TB (1000GB) HDD space when you use the notebook by Lenovo. You can thus store all your important files on the system itself without any difficulty. You also have a two-in-one card that supports SD and MMC cards to offer additional storage space.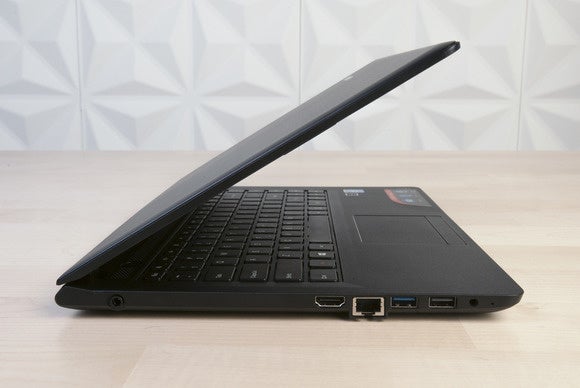 Multimedia
The Lenovo 4 GB RAM notebook is also equipped with stereo speakers that use the Dolby and Advanced Audio technology in order to deliver a powerful sound quality. You can thus enjoy multimedia content in an enhanced audio visual manner when you use the notebook. It also has a 0.3 MP webcam and an integrated analog microphone that makes video calling delightful.
Connectivity
In order to facilitate a seamless connectivity with other devices, the Lenovo Ideapad 110 comes with two USB 3.0 ports, one USB 2.0 port, a VGA port, and an HDMI-out. Moreover, it also supports wireless LAN and Bluetooth connectivity. You can thus easily transfer and receive files from other devices.
Battery
This Lenovo Laptop has a powerful battery life that stays active up to 4 hours with its standard 4-cell battery. Hence, you can keep using the laptop for long hours without any interruption, once it has been fully charged.
Engineered for Value
Everything you need. Nothing you don't. If you're looking for an affordable laptop that doesn't sacrifice on performance, the Lenovo ideapad is the notebook for you. Never lug a heavy, clunky laptop around again. Weighing in at a mere 2.7 kg, the ideapad is perfect for an on-the go lifestyle.
General Specifications:
Intel Corei3 5200U 2.0GHz
4 GB RAM, 1000GB HDD
Free dos
15.6-Inch
Order the Lenovo Ideapad laptop and have it delivered to your doorstep within 1-3 working days or same day delivery within Nairobi. Payment on delivery.