Product Overview
Operating this device is easy, thanks to the installed Android KitKat OS v4.4, which offers simplified interface enhancements along with improved visuals. The device's cutting edge HiSilicon Kirin 925 chipset ensures the functions operate seamlessly, in a glitch free manner, along with several other applications. An extensive 3GB RAM makes switching between multiple applications remarkably smooth. Its 32GB ROM quickly lets you store volumes of digital data including music, games, apps and more. Since the device weighs just around 185g and measures 157 x 81 x 7.9mm, carrying it with you while you travel is extremely easy.
Hardware Features
This device provides everything you could've asked for; a big screen, lightweight body, and advanced connectivity and multimedia features. Enjoy your movies, games, and Web surfing on this large, vivid display while holding it in one hand. This golden colored device features a striking 6 inch IPS LCD capacitive touchscreen display that renders an incredible 1080 x 1920 pixels resolution images with a color depth of up to 16M. The cellular device comes fitted with a powerful 13MP camera that makes it possible to shoot professional looking pictures and videos with ease. Its 5MP front camera snaps up those amazing selfies that you will love to share; it also makes video chatting fun. The smartphone supports 4G LTE connectivity that enables blazing fast browsing. When around a wireless hotspot, you can access the Internet by connecting the device to a modem via the built in WiFi.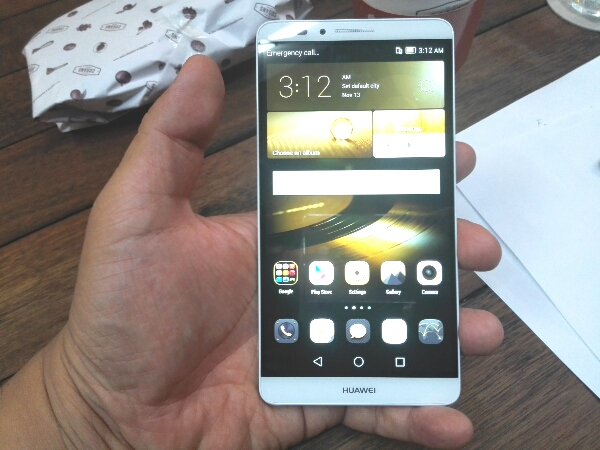 Full HD Screen
The Huawei Ascend Mate 7 comes fitted with a huge 6 inch Full HD screen in a sleek, slim metal body. The phablet has a near invisible bezel, which in conjunction with high screen to body ratio makes the device appear more compact than similarly sized smartphones.
Efficient and Powerful
The Huawei Ascend Mate 7 is one of the first devices to feature an octa core Kirin 925 SoC chipset. The powerful processor balances between power and performance, delivering an ideal mobile user experience. The CPU, Mali T628 GPU, and the phablet's 2GB RAM enable smooth operations while multitasking, playing 3D games or watching videos.
Airtight Security
The Huawei Ascend Mate 7 features an ultra responsive fingerprint sensor that is ideally fitted on the back of the smartphone. The smart sensor instantly recognizes your unique fingerprint, unlocking the device instantly. The sensor's high ppi (Pixel Per Inch) ratio facilitates accurate identification in an instant, thus making using the device more convenient. Your fingerprint data is encrypted and stored securely on the Ascend Mate 7, preventing access by any third party users. You can even program the device to open and lock private apps via the fingerprint sensor, or by certified users via the Visitor Mode.
Fascinating Cameras
The Huawei Ascend Mate 7's 13MP rear camera featuring Sony's 4th generation sensor, and 5 aspherical lens system helps capture all the important moments in your life. A 5MP front camera enables crisp, clear video calling and selfies.
Amazing OS and Fast Connectivity
The Ascend Mate 7 comes installed with Android Kitkat OS that is further enhanced by the addition of Huawei's EMUI 3.0 user interface. The OS and the UI provide for simple operations, amazing functionality, making your phone user experience easier and more enjoyable. The Huawei Ascend Mate 7 features Cat6 4G LTE technology that delivers download speeds of up to 300Mbps. Such high speeds enable interruption free streaming or quick download of contents in a matter of time.
Extra Long Battery Life
The Huawei Ascend Mate 7's high density 4100mAh battery lasts for hours on end. Turning on the ultra power saving shuts down battery consuming apps on the phone, giving you extra battery life, especially at the last 10percent of charge.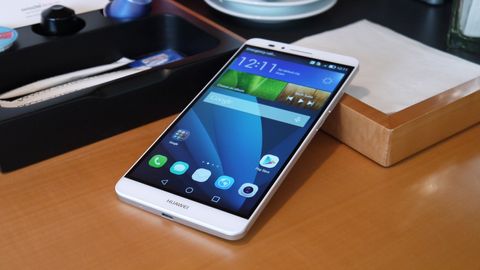 General Specifications
Rear camera 13MP, Front camera 5MP
3 GB RAM, 32 GB
4100mAh battery
Hisilicon Kirin 925 4x1.8GHz 4x1.3GHz 1x230MHz
Android™ 4.4, HUAWEI Emotion UI 3.0
Order the Huawei Ascend Mate 7 today and have it delivered to your doorstep within 1-3 working days or same day delivery within Nairobi. Payment on delivery.