Product Overview
Be blown away by soul-shaking bass with the Sound Pressure Horn. An internal folded horn design efficiently increases acoustic pressure by pushing energy through an amplifying duct. The result is far more effective than traditional, energy-wasting amplifiers and signal processing, adding a boldness and body you can really feel to all your bass lines.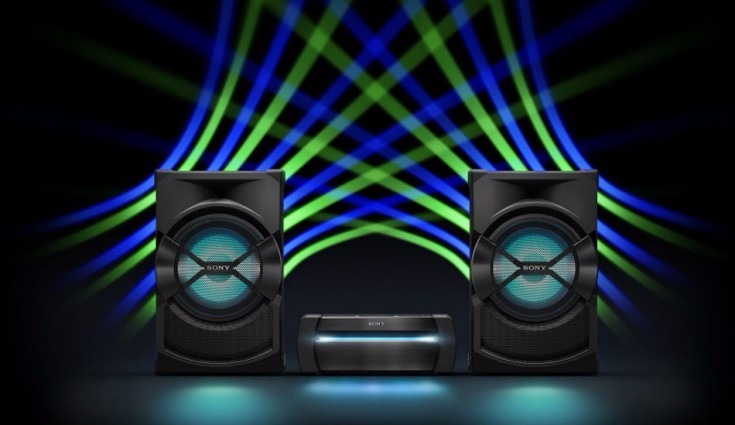 New Audio Technology
LDAC is a new audio technology from Sony that allows you to enjoy the highest quality wireless audio via Bluetooth technology. With up to 3x the data transmitted, LDAC provides an enhanced wireless listening experience for all your music. Pump up the atmosphere with club-like LED speaker illumination. The LED light speakers come with various colour patterns, ranging from pure white to rainbow. Synchronising with the rhythm of the beat, the power and speed of the light display matches the musical mood and atmosphere.
DJ Effects
Get the crowd going with DJ effects. Four different effects set the stage for your party: Flanger creates a deep roaring effect; WAH distorts the audio; Isolator singles out a specific frequency band; and PAN sweeps the sound across speakers. You can use DJ effects with the Fiestable app and gesture control, so getting creative with your party playlists has never been easier.
Karaoke Features
Karaoke competitions with your friends are easy: just hook the SHAKE-X30D up to a TV, pop in a karaoke DVD, and sing along to the words on the screen. Two mic inputs and features such as song reservation, scoring and echo let you team up with friends for the ultimate sing-off. A built-in vocal fader even turns down the voice on CDs, so you can sing all your favourite songs.
General Features
200mm Subwoofer, Dual 50mm Tweeters
Blue Party Lighting Effects
CD, USB, Bluetooth, Analog Inputs
FM Tuner
Dual Mic Inputs & Karaoke Vocal Fader
Party Chain, Child lock
Order the Sony HCD Shake EX30 Hi-Fi System today and have it delivered to your doorstep within 1-3 working days or same day delivery within Nairobi. Payment on delivery.