Product Overview
The Sony BDV-E3100 3D Blu-ray Home Theater with Wi-Fi makes an ideal companion for your 3D television. It features a 1000W 5.1-channel surround sound speaker system with several advanced features. The system offers an HDMI 1.4 output to deliver high-definition video and audio over a single cable. An Audio Return Channel requires just one cable for TV audio. Watch Blu-ray 3D movies and standard Blu-ray disc movies in full HD 1080p or upscale standard DVDs to near-HD quality. You can even upconvert 2D to 3D.
Superior Entertainment Value
For convenience, the system features built-in Wi-Fi and allows access to the Sony Entertainment Network, so you can stream content from more than 100 services like Netflix and HuluPlus. The system also supports Bluetooth wireless streaming and NFC tap-to-pair technology. Dolby TrueHD and DTS HD enhanced audio codecs let you take advantage of high-quality movie soundtracks. The BDV-E3100 is DLNA compatible for sharing media over your home network. You can also connect a USB storage device to enjoy photos, videos and music for added entertainment value.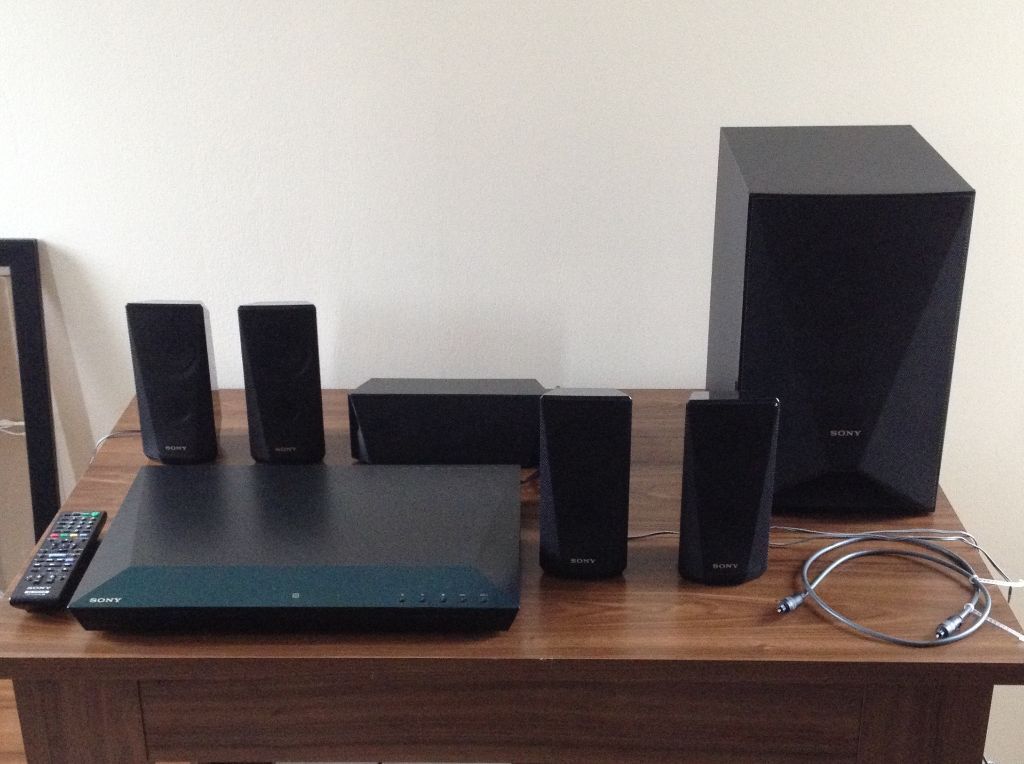 Surround Wireless Sound
Enjoy the full movie theater experience with full HD 1080p Blu-ray disc player, 5.1-channel HD surround sound and 1000 watts of power for full immersion in your entertainment. 3D Conversion & DVD Upscaling. Enjoy 3D Blu-ray disc movies in full HD 1080p and upscale standard DVDs to near-HD quality. The system is also capable of converting 2D Blu-ray discs and DVDs into 3D. Connect to the Internet without the need for cables. Supports Bluetooth and NFC Technology. Supports Bluetooth technology for wireless streaming of your music. The system also supports NFC (Near Field Communication) technology so you can simply tap another Bluetooth and NFC-enabled device to the player to pair them
Compatible with Several Apps
Download the free Sony TV SideView app to your tablet and you can send videos, pictures and music to your TV from your tablet. You can also control the player remotely with a Sony tablet, Android or iOS device via a downloadable app. Additionally, you can share with friends on Facebook and Twitter via your TV using the Socialize app.
General Specifications
1000W 5.1-Channel Home Theater System
2D to 3D Conversion
Built-in Wi-Fi
Access to Sony Entertainment Network
Bluetooth Wireless Streaming
Supports NFC Technology
Dolby TrueHD and DTS-HD Sound Modes
HDMI 1.4 with ARC
Order this Sony BDV E3100 Home Theatre System today and have it delivered to your doorstep within 1-3 working days or same day delivery within Nairobi. Same-Day delivery in Mombasa on selected items. Pay on delivery via cash/Mpesa.