Overview
The Transcend Jet Flash 700 is a high performing pen drive that caters to your data storage, transfer and portable access requirement. It comes with 4 GB of storage space and a USB 3.0 specification for fast data transfer.
Enabled with the Toggle TLC flash technology, it offers a read and write speed of upto 90 MB/s and 20 MB/s respectively. It lets you store, access and transfer data across devices that go beyond computers.
This pen drive can be used with any other device that comes with a USB port. Electronics such as televisions, DVD players, gaming consoles as well as digital photo frames can work well with this pen drive for data transfer without requiring you to download any software. Robust exterior design and quality NAND Flash memory chips add to the value you can experience after purchasing in this pen drive.
Secured & Speedy Access
The pen drive offers you access to free download of the Transcend Elite Data Management Software. It helps you secure your data by offering a strong 256-bit AES encryption so they can be unlocked only with a password. Easy back up and location sync are some of the other features that come with the software.
Compact & Portable Design
The Transcend Jet Flash 700 is made using ultrasonic welding technology to provide you with a durable device that also has a smooth finish and sleek appearance. Its classy black colour, detachable cap for protection from dust and other elements and a loop for tying a charm add to the design advantages of this high on utility device. The compact nature ensures that it does not block other ports on your device while it is plugged and in use.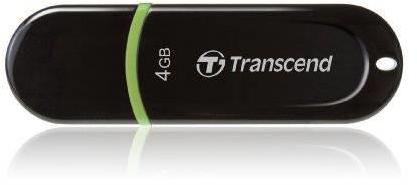 4 GB Storage Capacity
The Transcend Jet Flash 700 comes with 4 GB of storage capacity to meet your data storage, access and transfer requirements. You can trust it to store a large number of documents, photographs, presentations and a lot more. In fact, you can stock a couple of movies at one go depending on whether the movie files are of an optimum size.
Read and Write Speed
The Transcend Jet Flash 700 comes with a 3.0 USB specification which gives it a fast and efficient data transfer speed. When reading files from this device, you can expect to increase your productivity and efficiency by leaps and bounds when compared to pen drives that come without a 3.0 USB specification.
Description:
Ideal for people who want quick access to rich digital content, the JetFlash supports SuperSpeed USB 3.0 standard, compatible with your latest next-generation electronic devices and ensures fast and reliable data transfer speeds. Usefully, this drive is also backwards compatible with USB 2.0.
With a combination of speed and a slim, stylish design, the JetFlash is the ideal USB drive for those who demand leading technology as well as aesthetics. The compact lightweight casing ensures your data is protected at all times, and the drive can be easily attached to a key ring or lanyard or stored in a pocket or wallet.
Order the Transcend Jetflash and have it delivered to your doorstep within 1-3 working days or same day delivery within Nairobi. Payment on delivery.