Transcend Storejet External Harddisk​
Transcend StoreJet 25M3 portable hard drive is equipped with High-Speed USB 3.0 interface that provides transfer speeds up to 10 times faster than USB 2.0 models. StoreJet 25M3 features a sophisticated three-stage shock protection system that's designed to meets U.S. Military's drop test standards.
Silicone Outer Shell
StoreJet 25M3 is encased in a durable and vibration-absorbing silicone outer shell to fully protect the data stored in your drive. Internal hard drive suspension system. StoreJet 25M3 has a built-in suspension system damper to withstand shocks. In the case of dropping the device, the anti-shock casing prevents your drive from any damage.
General Features
High-speed USB 3.0
Military-grade shock resistance.
Three-stage shock protection system.
Internal hard drive suspension system.
One touch auto-backup button.
External Hard Disk Hand Carrying Zipper Case
You have bought an external hard drive, it looks great and feels good in hands. Then you accidentally drop it, or it gets scratched hard in your backpack with keys for example. Doesn't sound cool, huh? The best way to prevent this is to get an external hard drive case. They are cheap, and there is no reason why you shouldn't get one.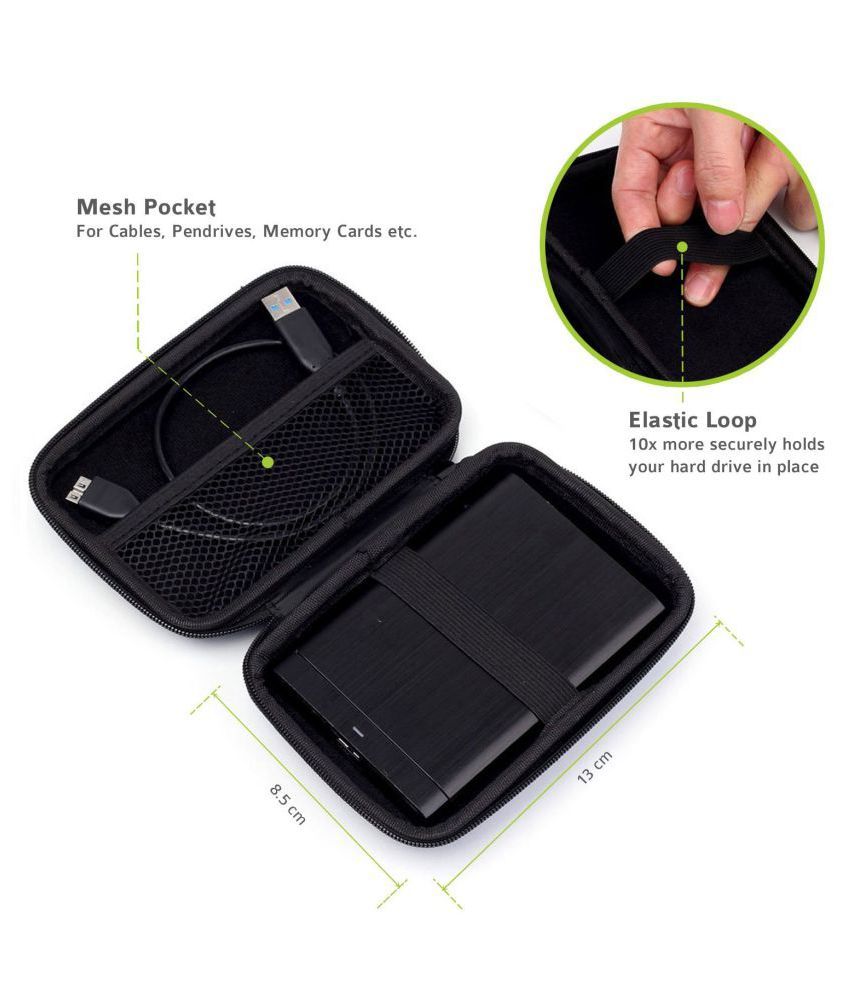 Protect Your Data
The truth is – most external hard drives are very durable but a small drop shouldn't cause any data loss. However, extra protection never hurts and if not for data than for looks a case is a must buy. It's way more pleasant to work with unharmed devices than with scratched and damaged ones.
Custom Tailored
A snug, precise fit (4.84in × 3.62in × 0.78in) for WD My Passport Ultra, Toshiba Canvio Basics & most models Of Seagate Expansion Portable / Backup Plus Slim. Soft elastic strap firmly holds the hard drive in place. Hard case provides multi-layered 360° protection from shock, bumps, scratches & other accidents that may occur.
General Features
Molded, Durable, semi-rigid exterior to protect valuable data
4.84in x 3.62in x 0.78in
Slimline design allows case to easily fit into any backpack or briefcase
Interior strap and zippered closure secures portable hard drive in place
Internal mesh pocket conveniently stores power cords
Order the Transcend 1TB External HDD Plus Hand Carrying Zipper Case and have them delivered to your doorstep within 1-3 working days or same day delivery within Nairobi. Payment on delivery.