Overview
The StoreJet 25H3 USB 3.0 portable hard drive combines the superior performance of USB 3.0, vast storage space, eye-catching enclosure, and a three-stage shock protection system that meets U.S. military drop-test standards. What else can you ask for?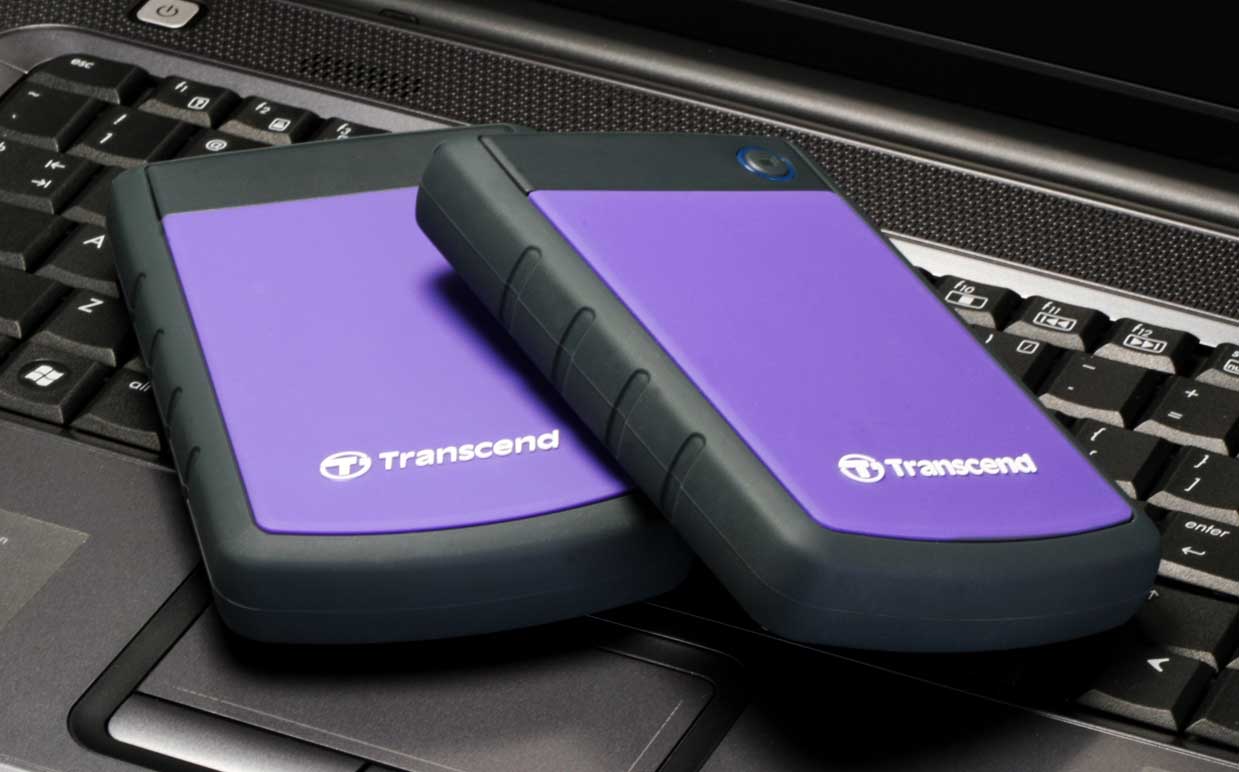 Overview
The Transcend H3P external hard disk is a portable drive sporting a fashionable purple colour in addition to being available in black, on Saruk. Offering a host of benefits to its loyalists, this external hard disk rises above all the expectations of its users to be recognized as a reliable hard disk. Provided with a gentle touch auto backup button, this external hard disk takes utmost pride in its reinforced hard casing. Facilitating the highly advanced three-stage shock protection system, the purchase of Transcend H3P external hard disk is a wise decision so long as its 3 year warranty is concerned. It goes without saying that a volley of advantages are waiting to unveiled by every proud owner of this external hard disk.
Memory
This is a 2 TB external hard disk.
Supported Operating System
The Transcend H3P external hard disk is supported by the following operating systems: Windows: XP, Vista, 7, 8, Mac OS 9.0, Linux Kernel 2.4.2.
Protection System
This easy to use hard disk from Transcend employs StoreJet H3P with a slip-resistant silicone outer shell which is the main reason behind its durability as far as its physical and internal characteristics are concerned. This thick shield hence ensures a complete protection of the stored data in the drive. Providing an easy grip, a quick reconnect button and an internal hard drive suspension damper, the Transcend H3P external hard disk seems to be well-protected with an armour, ensuring damage free data at all times.
Specifications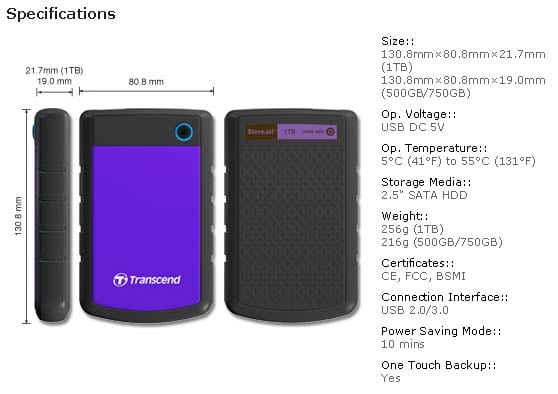 Features
Fully Compliant with the Hi-Speed USB 2.0 specification
Advanced 3-stage shock protection system
Durable anti-shock rubber outer case
Advanced internal hard drive suspension system
Quick Reconnect Button – after safely removing the hard drive from the system, press to reconnect the drive -without having to unplug and replug the USB connector again
One Touch Auto-Backup button
256-bit AES file & folder encryption**
Exclusive Transcend Elite data management software
Based on U.S. military drop-test standards MIL-STD-810F. Transcend is not responsible for recovering any data lost due to any improper usage.
Transcend Elite software is required to use this feature.
What's In The Box:
Delivery
Order the Transcend 2TB External and have it delivered Same-Day Delivery within Nairobi. Next-Day delivery outside Nairobi.