Product Overview
Store, access, and edit up to 8TB of data, whether at home or on-the-go, CCTV videos, photos, and more with the 8TB Backup Plus USB 3.0 External Hard Drive with USB Hub from Seagate. This drive connects to your system using its integrated micro-USB 3.0 (micro-B 10-pin) port and provides data transfer speeds of up to 160 MB/s, while also being backwards compatible with USB 2.0. In addition to its storage capabilities, this drive has also been equipped with dual front-mounted USB 3.0 Type-A ports, which can be used to recharge your tablet, smartphone, or camera, as well as back up files, even if your system is turned off or in standby mode.
Distinctive Features
Seagate's Backup Plus Hub is compatible with both Windows and Mac systems. It is pre-formatted for Windows and Mac compatibility requires the included NTFS driver for Mac. Once installed, this drive can be used interchangeably between Windows and Mac without needing to be reformatted. Also included is the Seagate Dashboard software, a USB 3.0 cable, and a power adapter. Equipped with two integrated USB ports on the front, you can back up your files, photos, and videos while connecting to and recharging your tablet, smartphone, or camera even if your system is off or in standby mode.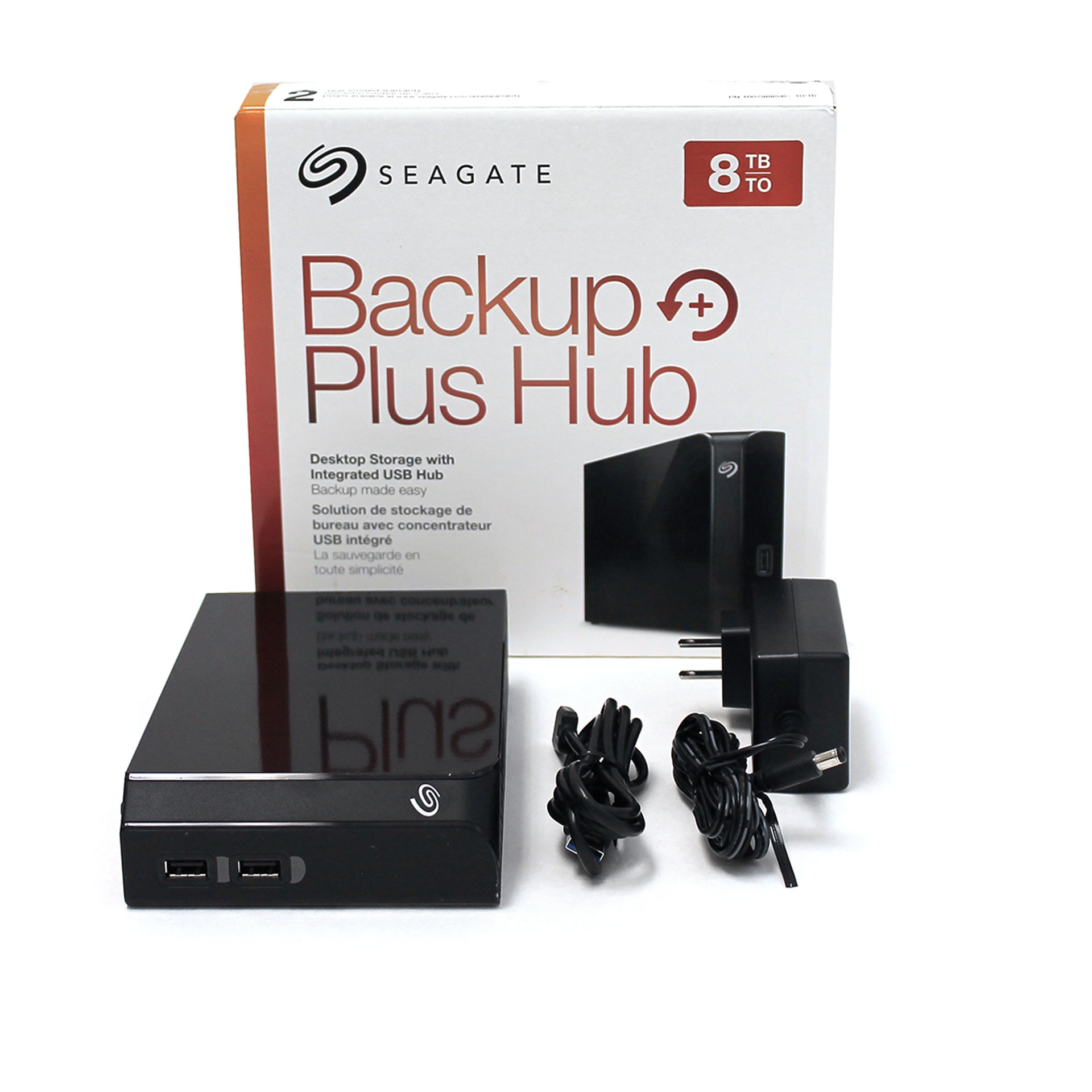 Seagate Dashboard
With Seagate Dashboard software, you are provided tools for local, mobile, cloud, and social media backup. You'll be able to back up and manage all your CCTV photos and videos. Or, run a one-click backup or schedule an automatic backup plan to protect your files using your Backup Plus Hub drive. Install the free Seagate Mobile Backup app on an iOS or Android mobile device, and you'll be able to back up all of the pictures and videos from your device to your Seagate drive or to the cloud.
General Specifications
8TB(8000GB) Storage Capacity
1 x Micro-USB 3.0 (Micro-B 10-pin) Port
2 x USB 3.0 Type-A Ports
Up to 160 MB/s Data Transfer Speed
USB 2.0 Compatible
Back Up Files & Recharge Devices
Order the Seagate 8TB Backup Plus today and have it delivered to your doorstep within 1-3 working days or same day delivery within Nairobi. Same-Day delivery in Mombasa on selected items. Pay on delivery via cash/Mpesa.