Product Overview
This Dell Inspiron laptop is fitted with a powerful Intel Core i5 processor that takes processing to new heights. Have a convenient computing experience while you are on the go with the Dell 3543 laptop. It has a 15.6inch LED backlit display that outputs content at HD resolutions. This laptop comes with the Free DOS but you can buy a Genuine Windows OS from Saruk Digital Solutions. The OS gives you a smooth interface with a polished layout while the processor and 4GB RAM module deliver seamless multitasking experience and performance.
Distinctive Features
Its HD webcam and speakers let you carry out video chats and provide an incredible sound experience respectively. This Dell Inspiron laptop also comes equipped with a broad range of multimedia and connectivity features. The 500GB hard disk capacity ensures that you have all the space to store digital and multimedia files on this device. Plus, the Dell laptop battery provides a long runtime. Available in a black color, this Dell Inspiron laptop is a perfect working and entertainment partner.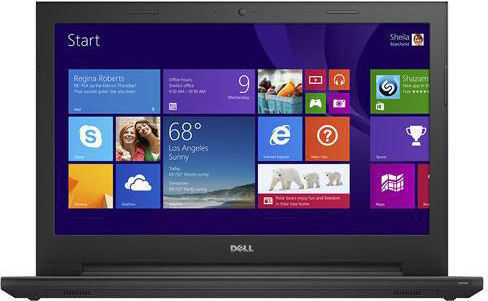 Cinematic Experience
This Dell is fitted with a wide 15.6inch display that supports HD resolutions for more vivid games, video chats, movies, and photos. It had wide viewing angles that deliver more room for others to see. It comes built with speakers to deliver a rich, immersive audio experience.
Incredible Performance
This laptop is powered by the Intel Core i5 5200U processor that delivers a consistent performance in the heat of a battle. The 4GB RAM module lets you sail by seamlessly without any lag or glitches while multitasking. The Graphics processor with 2GB VGA enables you to experience games like never before by delivering crisp and vivid visuals. The 500GB of hard disk drive with spindle speed of 5400rpm provides room for files such as pictures, movies, videos, audio files, and more.
Super Fast Connectivity
This machine offers support for 802.11b/g/n WiFi network to access the Web at high speeds and download content in a jiffy. The ports and slots such as USB and HDMI, etc. let you connect or insert external devices for a better gaming experience and Bluetooth makes sharing of data quick and easy. The SuperMulti DVD Burner lets you install CDs of various formats for entertainment and work related purposes. Port offerings are solid. On the left edge are an Ethernet port, an HDMI port, a USB 3.0 port, and an SD card slot. On the right, there's a DVD drive, two USB 2.0 ports, and a headset jack. The laptop integrates Bluetooth 4.0 and dual-band 802.11ac wireless.
A Smart Choice
The Dell Inspiron 15 3000 3543 is the latest refresh of the PC maker's 3000-series budget-class 15.6-inch laptop. This home and office notebook with square-ish chassis made of matte black plastics features the latest Intel Broadwell processors instead of older Haswell found in the previous 3542 and AMD CPUs in the 3541. The Inspiron 15 is a basic-looking black plastic laptop, with few design choices. The lid and keyboard deck are covered in a dotted textured plastic that doesn't scream high-end yet preferable to an entire body of shiny plastic. Instead, only the edges of the laptop feature a glossy finish, which strikes one as a smart choice that gives the budget system a sharper look.
Gaming Performance
The NVIDIA GeForce 820M (or GT 820M) is an entry-level DirectX 12 compatible graphics card announced in January 2014. Its core is based on the 28nm GF117 chip (Fermi architecture) and is equipped with 64-bit DDR3 memory. Besides the slightly different clock rate, the 820M is almost identical to the old Ge Force 710 and GT 720M. In Architecture, the GF117 is based on the optimized GF108 Fermi chip and offers 96 shaders, 16 TMUs and 4 ROPs. Each shader core is clocked twice as fast as the rest of the graphics chip, a technique known as hot clocking. In the gaming benchmarks, the 3D performance of the GeForce 820M is similar to the former GT 720M and the Intel Iris Graphics 5100. This places the card in the entry level segment. Current games (as of 2013/2014) will run fluently only in low settings and resolutions.
General Specifications
2.7GHz Intel Core i5 5200U processor
4GB DDR3L RAM
500GB 5400rpm Serial ATA hard drive
15.6-inch screen,
NVIDIA GeForce 820M 2GB Graphics
Free Dos
Order the Dell Inspiron Core i5 and have it delivered to your doorstep within 1-3 working days or same-day Delivery within Nairobi. Payment on delivery.