No disappointment
It is quite obvious that specs-wise the Sony Xperia Z5 does not disappoint. The handset is powered by Qualcomm's top-of-the-line Qualcomm MSM8994 Snapdragon 810 chip, along with an Adreno 430 GPU, 3GB of RAM and 32GB of onboard storage. Sony is betting big on its new multi-aspect 23MP sensor, which is being marketed as the Z5's major feature. It's nonetheless an excellent camera and we can't wait to put it to use.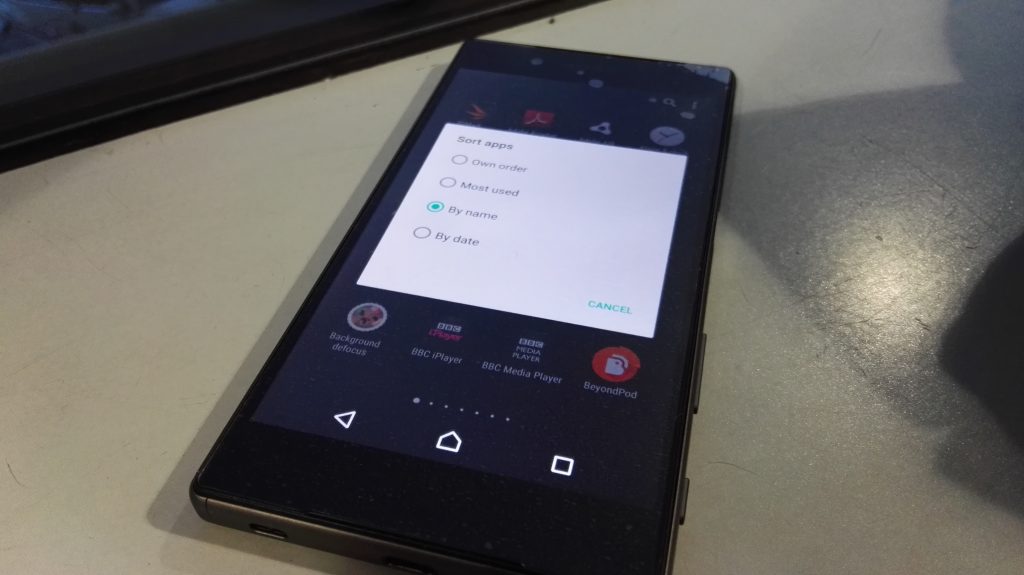 Unboxing
The Sony Xperia Z5 comes with rather minimalistic packaging. It is housed inside a white, two piece cardboard box, without any fancy finish, embossing or other accents to suggest a premium product. That, however, as in today's world a smartphone is almost never an off-the-shelf supermarket purchase.However, it is worth noting that the Z5 comes bundled with all the essentials
a wall charger (1.5 A),
USB cable, both of nice quality as well as
a pair of in-ear headphones.
The headphones sound nice, feel sturdy enough to last at least a few months and also come with two extra padding sizes and a clip.
Design and build quality
One thing is definitely changed on the Z5 and that is the design and the same goes for its sibling - the Premium and Compact, as well. With the Z5 series Sony is making a significant revision of its signature design language. It is the biggest such undertaking since the Xperia Z1 and all members of the Z5 family, share this common new exterior.It seems that Sony's vision was to go a step beyond the symmetry of its previous devices. The new design language takes the concept of uniformity to a whole new level. The Z5 is not only symmetrical, it looks almost identical from every angle - no more accents on curves or groves, no more obvious grills, everything is tucked away to create a minimalistic exterior as if the phone has been machined out of a single uniform block.
Distinctiveness
The whole Z5 lineup shares a common design and the bunch can definitely be mistaken from a distance, especially if you don't watch out for the model-specific color options. One such detail are the four bumper edges of the Z5, which, unlike the smooth finish on the Z5 Compact, are quite visibly made from a different material than the rest of the frame.This is arguably a better overall design that allows you to have both the premium feeling of a metal frame and protection against easy denting of said metal on the most-likely contact points in a drop.The back on the Z5 Compact is made of frosted glass (another way of saying matte glass) and Sony has really got the most out of the available materials. The body feels nice to the touch and the finish does not look cheap in any way. The handset comes in two classic colors - white and black, as well as two additional more vibrant options - yellow and green.
Display
Sony has opted for a more traditional panel on the Z5. FullHD might be a letdown for some, but, then again, there's the Z5 Premium to fill that niche and add some. In reality, 1080 x 1920 pixels are perfectly adequate, especially on a 5.2-inch screen and with 428 ppi, the phone is definitely not suffering from any shortage of pixels.
Sony Xperia Z5 battery life
The Sony Xperia Z5 is powered by a 2900 mAh battery, sealed-in, as expected. That is quite a bit less less than the Z5 Premium at 3430 mAh, but still better than the 2700 mAh pack of the Z5 Compact. As for the Z3 , it has just a bit more juice at 2930 mAh, but that still makes the pair quite comparable and will help up see if Sony has, indeed, improved the power efficiency of its flagship offer.
General Specifications
5.2" display
Resolution: 1080 x 1920 pixels
Android OS, v5.1.1 (Lollipop)
Internal memory: 32GB, 3GB RAM
23MP camera
Non-removable Li-Ion 2900 mAh battery
Order the Sony xperia Z5 and have it delivered to your doorstep within 1-3 working days or same-day within Nairobi. Payment on delivery.