Product overview
The roar of Apple's most awaited smartphone can be heard loud and clear. Apple iPhone 6 Plus - 64 GB, with most advanced multi-touch display, finally pervades the Indian mobile bazaar. A seamless blend of art and entertainment, the body of the Apple's 3G iPhone 6 plus is made with anodised aluminium, stainless steel and polished glass, giving it a smooth surface. On the one hand, where the large 5.50 inch capacitive LCD touchscreen amuses you with innovative messaging and gaming technologies, there on the other side, the most advanced operating system – iOS 8.0, gives you access to creative content sharing.
Design features
Giving up to 80 hours of audio performance, the 7.1mm thin iPhone 6 plus consists of 64GB internal memory, 1GB RAM, A8 processor, flash, Wi-Fi, NFC, Bluetooth, 3.5mm jack and many other technologically advanced and user-friendly features.
Furthermore, with the maximum aperture f/2.2, the 8 mega pixels rear camera of the iPhone 6 plus makes best use of auto-focus, digital zoom, flash and optical image stabilisation. With these awesome features you can not only click spectacular images but you can also record full HD movies.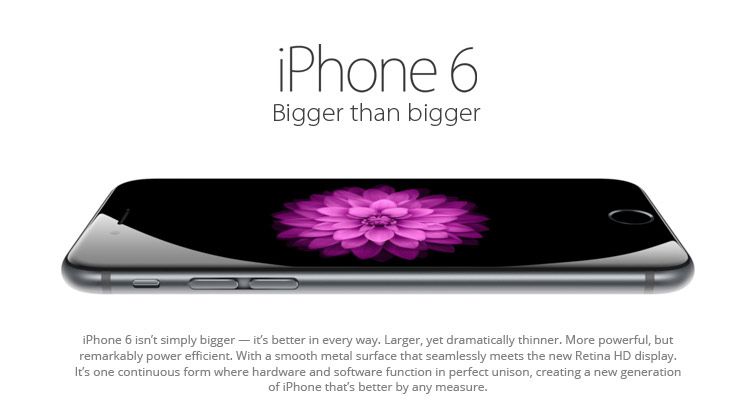 5.50 inch Touchscreen LCD Display
First and foremost feature, that makes Apple iPhone 6 Plus - 16 GB different from Apple iPhone 6, is the 5.50 inch capacitive touchscreen LCD display. The active, coloured and backlit display is comparatively much bigger and that is why it gives you an awesome messaging and gaming experience. Moreover, the screen shows the images and videos using the 16M colours with a very high resolution of 1080x1920.

Camera
With 8 mega pixels rear camera and the fast aperture f/2.2, the Apple iPhone 6 Plus - 64 GB not only clicks quality images even in a very low-light conditions but it also records 1080p full HD video at 60 frames per second. With the new improvements like optical image stabilisation, auto-focus, digital zoom and flash, you can take blur-free quality shots with perfect clarity. Furthermore, the 1.2 mega pixels front camera fully supports your video chatting either.

64 GB Internal Memory
Apple iPhone 6 Plus - 64 GB comes with a 64 GB internal memory where in you can save much of your favourite data at one single platform. Now, may it be the reminiscent images or the entertaining videos or the educating articles and news for that matter, this latest 3G smartphone saves it all.
Wireless Performance
As far as the wireless performance is concerned, Apple iPhone 6 Plus - 64 GB is superb. One the one hand, where the Wi-Fi allows you to share all your pictures and other related data online and that too instantly, the GPS on the other side, provides you with full details of the location around the clock. Moreover, this smartphone by Apple also consist of Bluetooth which supports wireless data transfer and also with NFC (Near Field Communication) allows you to easily connect your phone to your television etc. so that, you can share all your favourite data on a big screen.
Security Touch ID Technology
The great Security Touch ID Technology in Apple iPhone 6 Plus - 64 GB is one the best feature that secures you from an unwanted access to your phone. In other words, the Security Touch ID Technology uses your fingerprints to lock your phone. So with this updated lock technology, you can be sure that no one is going to have access to your phone, until you allow it.
Operating System
Apple iPhone 6 Plus - 64 GB uses the most advanced operating system – iOS 8.0. The experience with this latest operating system in this smartphone by Apple is certainly going to be all new. The operating system iOS 8.0, being the biggest iOS release till date, is going to give you access to various creative ways of sending messages apart from sharing other various content in completely novel ways.
A8 Processor
First to appear in the recently launched iPhone 6 by Apple, A8 processor, a 16 bit system on a chip, makes less use of power and hence gives you an enhanced long-term performance. Designed by Apple Inc, A8 processor increases the CPU performance by 25 per cent and the graphic performance by further 50 per cent respectively.
Other Features
There are some more features, which aids to the superb experience of the users of Apple iPhone 6 Plus - 64 GB. The 3.5mm jack allows you to connect your phone to the headphones. Weighing only 172 grams, this smartphone also facilitates voice dial.
Battery Life
The upgraded battery in Apple iPhone 6 Plus - 64 GB is one of the important element which makes it advanced in comparison to Apple iPhone 6. With up to 80 hours of music play, up to 14 hours of HD video playing, up to 12 hours of Wi-Fi browsing, up to 12 hours of 3G browsing, up to 24 hours of 3G Talk and up to 380 hours of standby mode, the Li-ion battery gives you a superb experience with this amazing smartphone by Apple.
Colours Available
Apple iPhone 6 Plus - 16 GB, which is being much adored for its seamless design and stunning elegant looks, is available in Gold, silver and Gray colours. You got the option. It is you who needs to decide, what colour stands tall to the theory of seduction for you.
In the Box
The sales package includes the following items:
iPhone with iOS 8
Bluetooth Earpiece
USB Power Adapter
NOTE: This device is in GOOD cosmetic condition, it is 100% fully functional as tested by our expert technicians and passed an industry leading 65-point inspection. Please be aware this device is previously owned abroad and MAY have cosmetic wear such as light scratches on the screen and/or minor scuff, scratches or nicks on the housing and/or back of device.
What does certified refurbished mean?The iphones are used abroad, taken back to Apple where they check to verify condition then re-sold as new. This normally happens because when Apple releases a new iphone in the market, users with the immediate previous iphone series are allowed to take it back to the apple store they purchased them at then trade-in for the new series by topping up some little cash.
General specifications
OS – iOS 8
M8 Motion Coprocessor
64GB
Touch ID Technology
Wi-Fi, NFC (Apple Pay only), Wi-Fi Hotspot, Wi-Fi Direct
Order the Iphone 6 Plus and have it delivered to you within 1-3 working days or same-day within Nairobi. Payment on delivery.