Overview
Star wars hype is everywhere, and the light and dark sides of the Force can be found emblazoned on everything from coffee mugs to clothing -- basically anything that can be imprinted with an image and sold in stores.
Add to this never-ending collection of sci-fi ephemera the new HP Star Wars Special Edition Notebook, a 15-inch laptop covered head to toe in familiar images of Darth Vader and friends. Under the distinctive paint job and handful of digital extras, this is actually a fairly stock midlevel 15-inch HP laptop.
That means its a gaming system, carved from aluminum and with glossy edge-to-edge glass over a 4K display. But, it also means you can get a very cool piece of Star Wars memorabilia that also functions as an everyday mainstream laptop at a perfectly reasonable price.
The system includes a healthy collection of digital extras for fans, including Windows background images and system sounds, galleries of Star Wars art, including behind-the-scenes photos and storyboards, as well as trailers, book excerpts and a digital version of the 1977 first issue of Marvel Comics' "Star Wars" adaptation.
Design and features
This is certainly one of the most distinctive-looking laptops you've ever seen, as nearly every visible surface is covered with Star Wars graphics. Over the past decade, only a handful of PCs with this sort of branding have been made, mostly limited to few performance laptops with Porsche or Ferrari logos.
In this case, the look is distinctive, but also subtle, with a black-on-gray design with red highlights. Rather than a big, bright Star Wars logo, you instead get muted monochromatic images of Darth Vader (on the back of the lid) and a Stormtrooper (on the keyboard tray), set against what HP calls a battle-worn design, with scratchy renditions of the Death Star and Imperial logos in the background. A line of Aurebesh writing sits along the hinge, spelling out "Galactic Empire" in the language of the Star Wars films.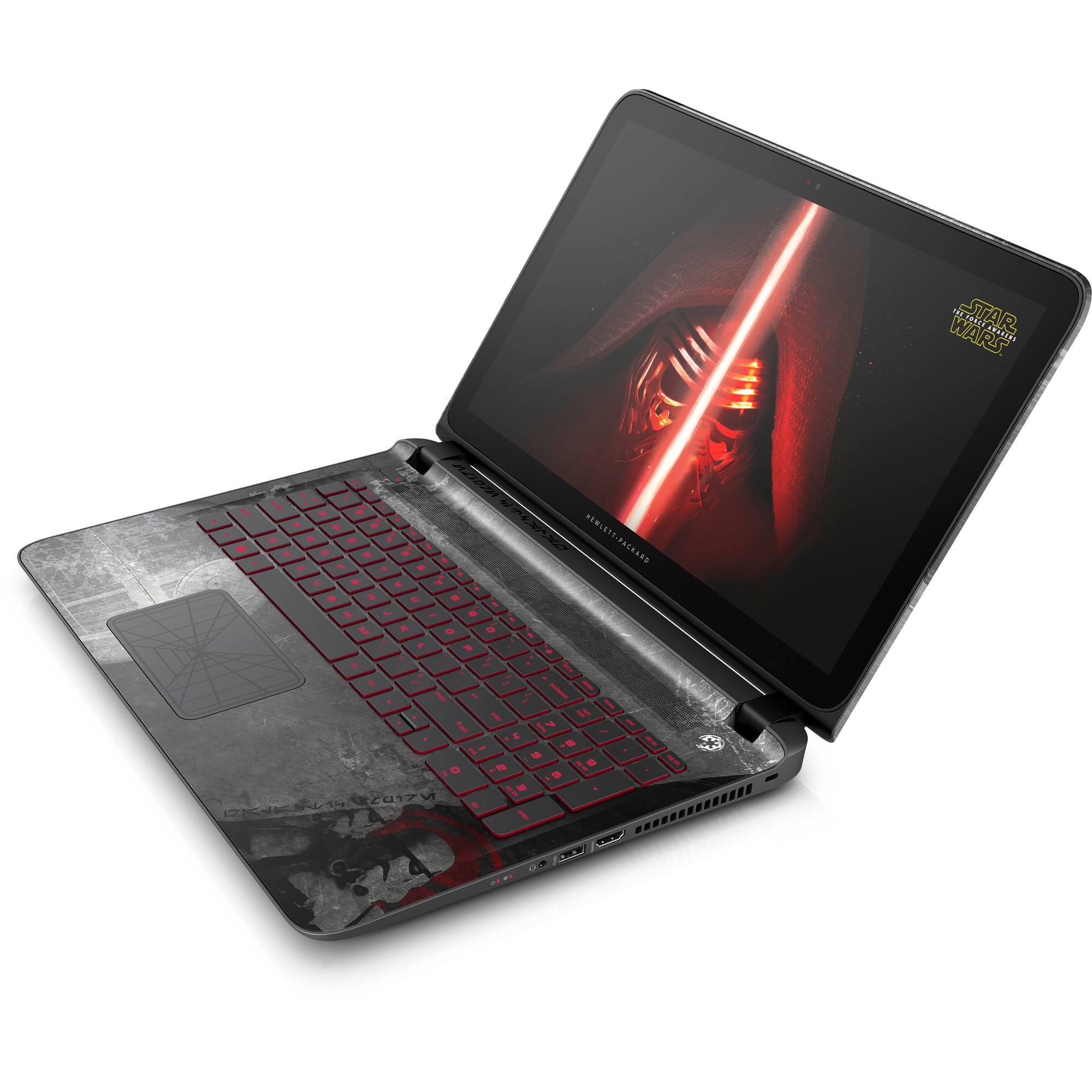 The backlit keyboard is a deep Empire-like red, and the light shines through translucent letter shapes on each key.
The touchpad has a plastic surface imprinted with an X-Wing's targeting computer view of the Death Star trench, which may be the only non-Empire touch on this otherwise Dark-Side-dominated laptop.
Besides the fancy paint job, the system comes with a sizeable collection of preinstalled Star Wars digital content for the option that comes with a pre-installed operating system. Most is found in the Star Wars Command Center app, which gives you access to background image collections and photo galleries, as well as several collections of system sounds.
Most of the background collections have between 12 and 35 images, and they include ones built around movie locations such as Tatooine and Endor, characters like Darth Vader or behind-the-scenes images of storyboards and ship models. You can select which images from a particular collection to use, and set them to automatically rotate on a timer, which is set to 30 seconds by default.
The galleries include a lot of cool-looking concept and production art, film stills, posters and more. Click on one, and they simply open up in the Windows Photo Viewer app, where you can flip through them. I have no doubt all the images here can be found elsewhere online, but a few of the galleries are fun to dive into, especially the collection of foreign-language theatrical posters.
The 15.6-inch display has a native resolution of 1920x1080 pixels. Standard Pavilion laptops start with a 1366x768 display, but in the Star Wars version, 1080p is the default. The screen has a matte finish, which may make your videos pop a little less, but its generally prefered to an overly glossy, reflective display.
Connections and performance
As a full-size 15-inch laptop, you get a generous collection of ports and connections, the same as you'd find on a standard 15-inch HP Pavilion, including an Ethernet jack, SD card slot, three USB ports and even a DVD drive. The following are whats available in summary
HDMI
AudioCombo headphone/microphone jack
Data2 USB 3.0, 1 USB 2.0 SD card reader
NetworkingEthernet, 802.11ac Wi-Fi, Bluetooth
Optical driveDVD burner
The The Hp Pavilion 15 Star Wars basic configuration includes a 2.3GHz Intel Core i5-6200U low-voltage processor (part of Intel's current sixth-generation of Core i-series chips), along with 6GB of RAM and a large 1TB hard drive.However you can bump the RAM to 16GB.
Battery Life
The Hp Pavilion 15 Star Wars has a Li-ion battery which lasts for just 5 hours, 58 minutes on an offline video playback test and 4 hours, 46 minutes in an online streaming video test,hence you get plenty of time to do things on the move.
Keep going with a battery that lasts. Go about your day longer without recharging.
Summary
HP has taken a standard-issue 15-inch Pavilion laptop, one of the most middle-of-the-road, midprice laptops you can find, and dressed it up with some very nice Star Wars graphics and digital content. Since there's little or no price premium between this and the standard 15-inch Pavilion (depending on the exact configuration and periodic sales), it's a fun collection of extras for Star Wars aficionados.
Fully armed and operational, there's no other notebook like it in the galaxy. With a Galactic Empire-inspired design, commanding Intel® Core™ processor, and extensive collection of rare Star Wars content, you won't be able to resist the power of the dark side.
Dark side inspired
Strike fear throughout the galaxy with ominous dark side graphics. The Galactic Empire lives on in the battle-worn design of this unique special edition notebook.
Access to the Empire
Completely immerse yourself in the iconic Star Wars universe. This notebook comes preloaded with rare wallpapers, screen savers, concept art, and original trilogy storyboards from the Star Wars™ archives.
Witness its power
Be prepared to surrender all of your senses. With a Full HD IPS display, front-firing B&O PLAY speakers, Intel® Core™ processor, and red backlit keyboard you'll revel in its galaxy-spanning power.
High performance
Intel® Core™ processors deliver cutting-edge performance. With dual-core processors you'll enjoy stunning visuals, effortless multitasking, increased speed and enhanced security to help you create, play, entertain and achieve.
Reliable processing power
With Intel® Processors, get the reliable performance you expect and quality you can count on.
Vivid display
The Full HD display with ultra-wide viewing angles delivers crisp, vibrant images.1
Backlit keyboard
Light up the night with glowing red backlit keys.
Amazing graphics
Enjoy movies, gaming and more with Intel® Graphics.
NVIDIA GeForce Graphics
Smooth frame rat​es and brilliant clarity from NVIDIA GeForce Graphics.
HP with Audio by B&O PLAY
Immerse yo​urself in a truly authentic audio experience.
Live. Love. Watch. Movies.
Enjoy the biggest collection of indie films with a free 1-year subscription to Fandor.
Re-writable DVD drive
Watch DVD movies, Or write your own media.
General Specifciations
Intel Core i5-6200U
6GB DDR3
Intel HD Graphics 520
1TB
wireless, Bluetooth 4.0
Order the Hp Pavilion 15 Star Wars laptop and have it delivered to your doorstep within 1-3 working days or same day delivery within Nairobi. Payment on delivery.